DF Studio provides a number of ways to check the status of assets that have been distributed using Approval Messengers, and use that information to organize assets or make decisions as part of a production workflow.
View Approval Status
Each asset's current approval state (approved, killed, or pending) appears in DF Studio as a colored approval status indicator on the background of the asset's card. This indicator can be toggled on and off using the Approvals UI icon in the toolbar at the bottom of the window. (For more detail, see Approvals View.)
Green ("Approved") indicates an asset which has been approved by all Approval Messenger recipients.
Red ("Killed") indicates an asset which has been "killed" by at least one Approval Messenger recipient.
Yellow ("Pending") signifies that at least one recipient has not yet submitted their Approval Messenger with a decision on this asset.
No color ("None") indicates that the asset has not been sent in an Approval Messenger. (Or, if it has, its approval state has been reset.)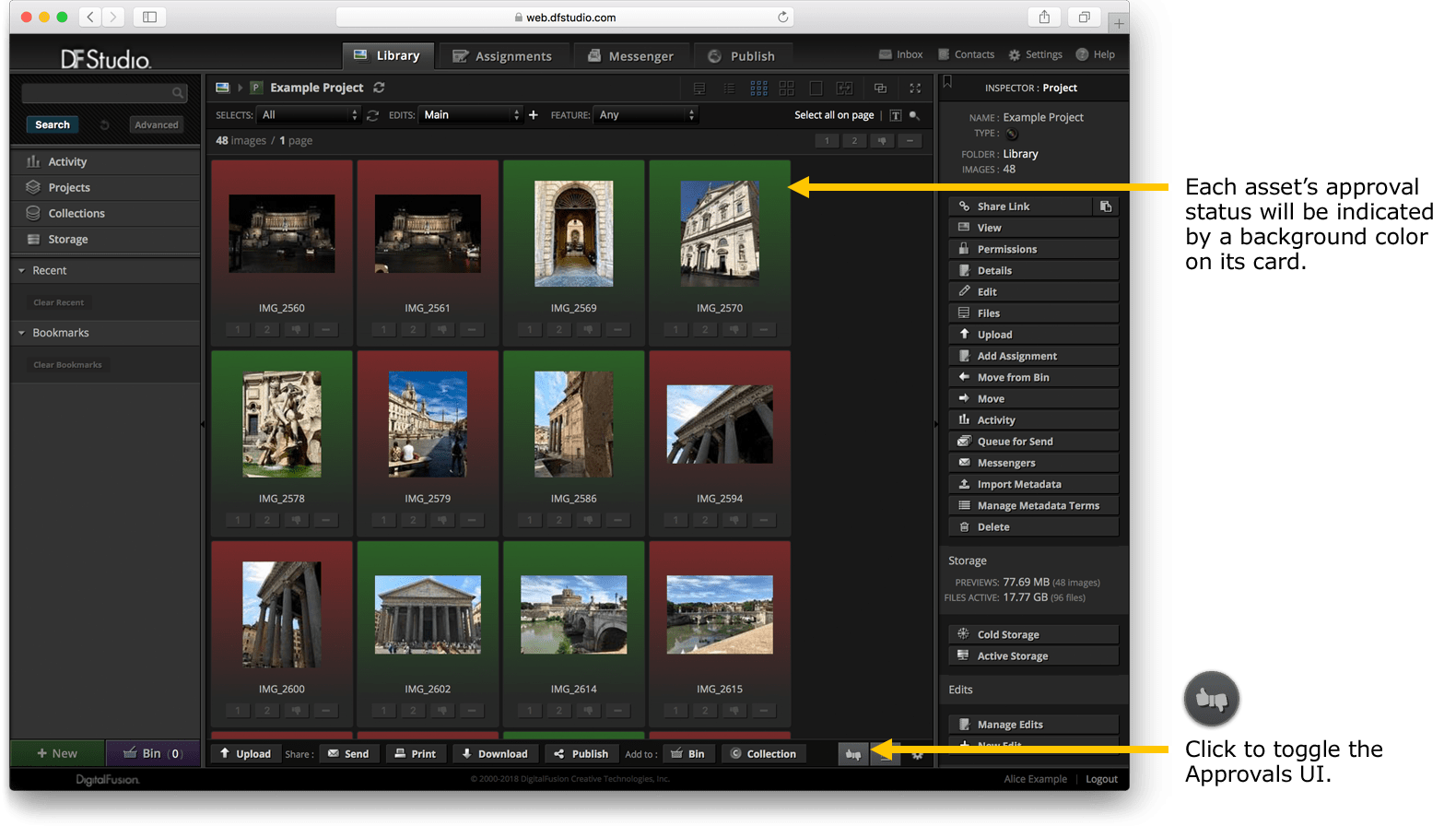 In the Info tab of the Asset Inspector, a list of Approval Messenger recipients for that asset will be listed in the Approval Status section, with their individual approval decisions indicated by a colored icon. Green and red represent approved/killed respectively. Yellow indicates that the recipient has not yet opened the Messenger, or hasn't set an approval state on the selected asset.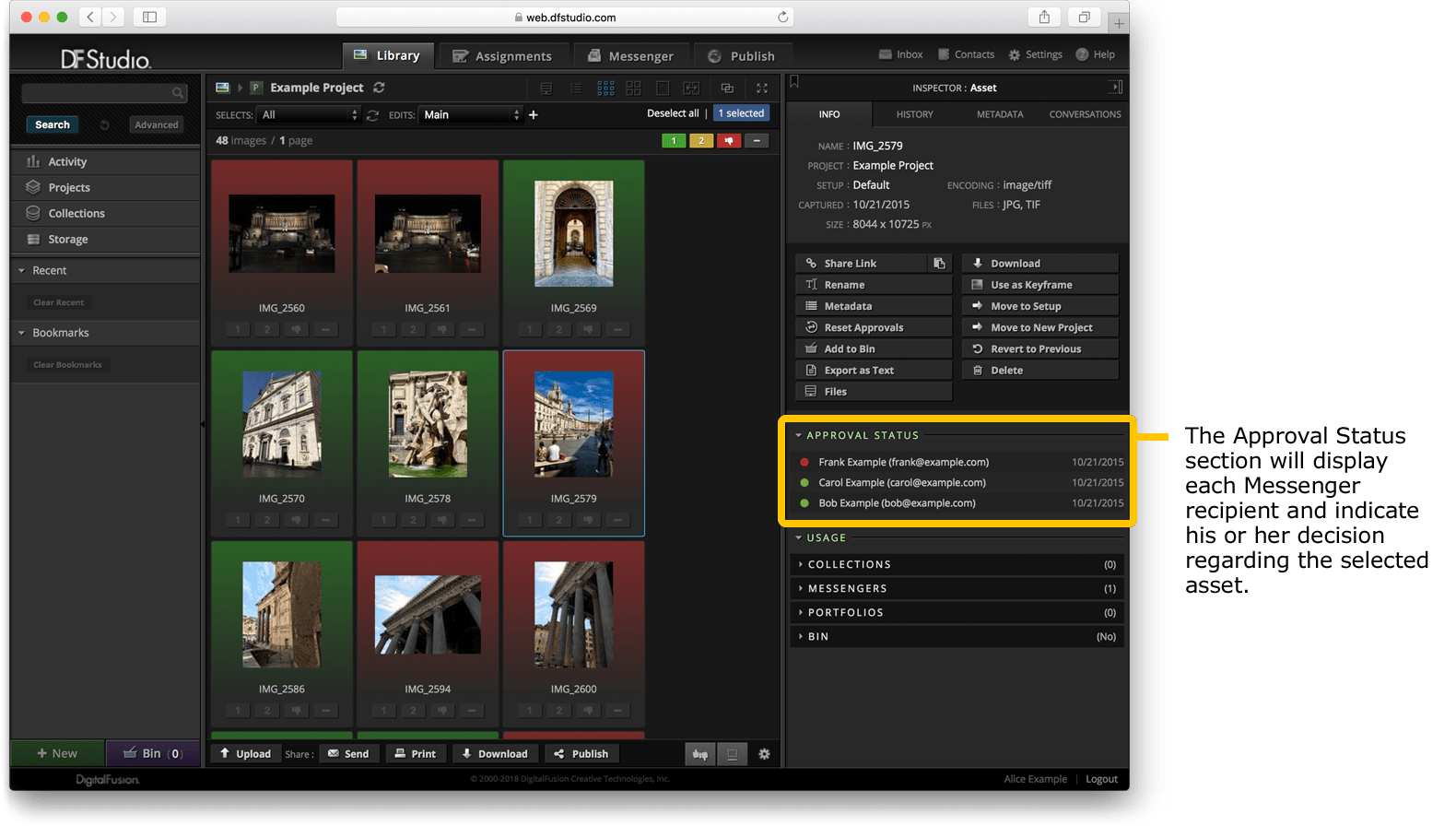 Filter Assets by Approval State
Using the Feature menu from the menu bar at the top of the workspace, it is possible to filter the view to only those assets in a particular approval state. This provides a quick way to gather all of the assets in a particular view that have been approved, or to narrow in on those assets still pending approval.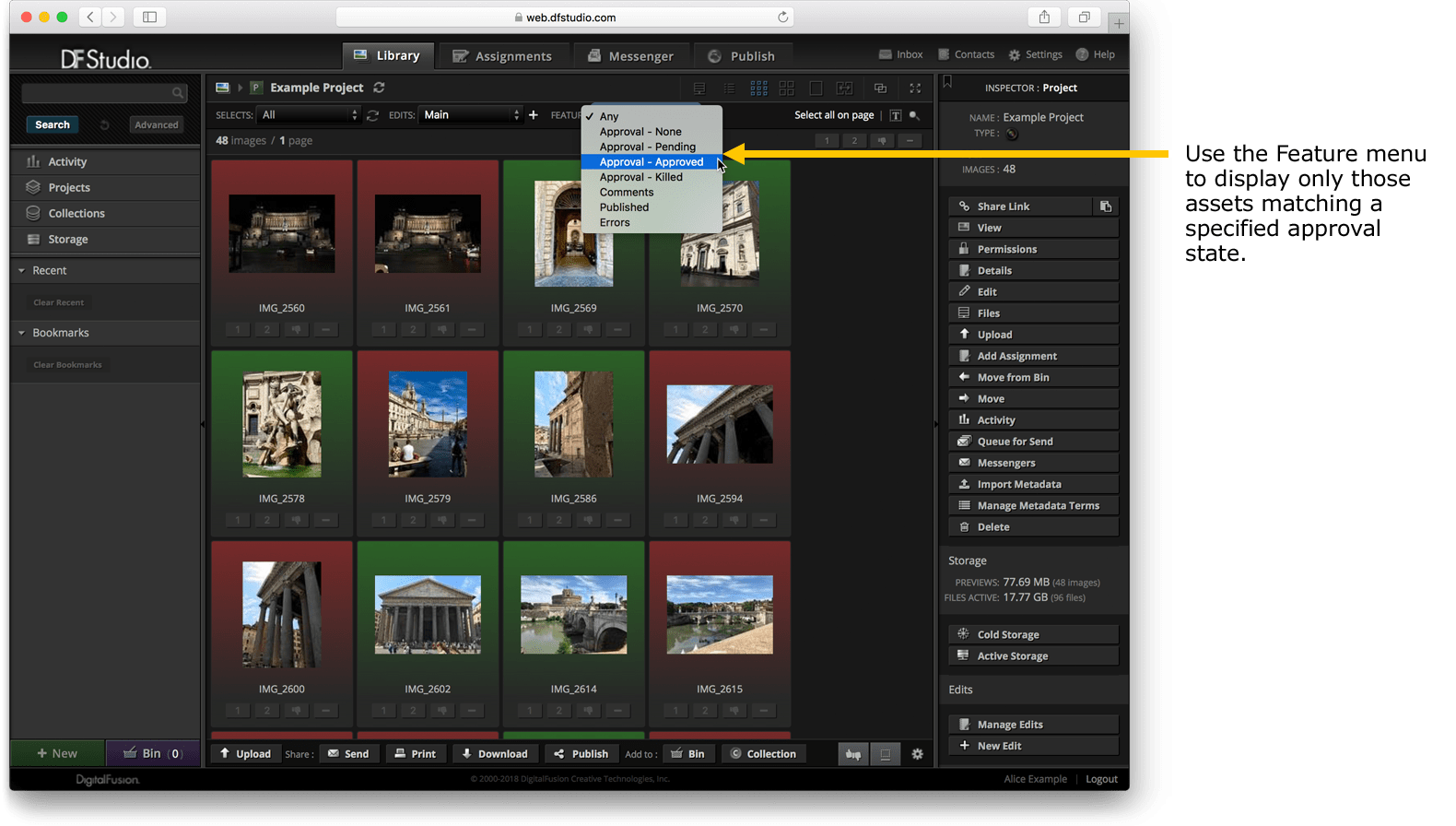 Search by Approval State
Approval state is included as a facet category in DF Studio's image search, allowing search results to be narrowed by clicking on an approval status facet. (For more information about faceted search, see DF Studio Image Search.)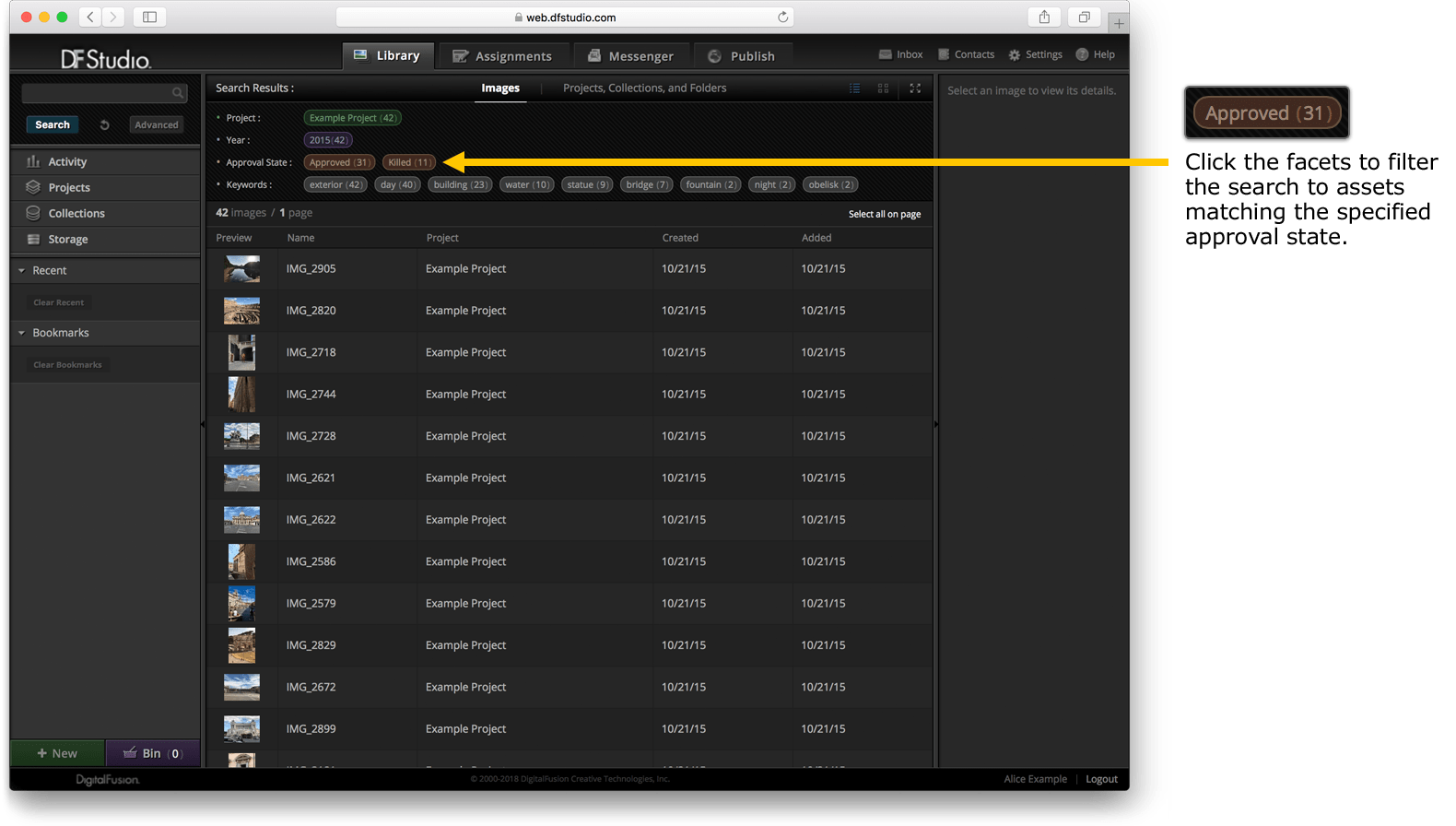 The advanced image search also includes Approval State as an available search parameter, making it possible to search for all assets in a particular approval state throughout the DF Studio account.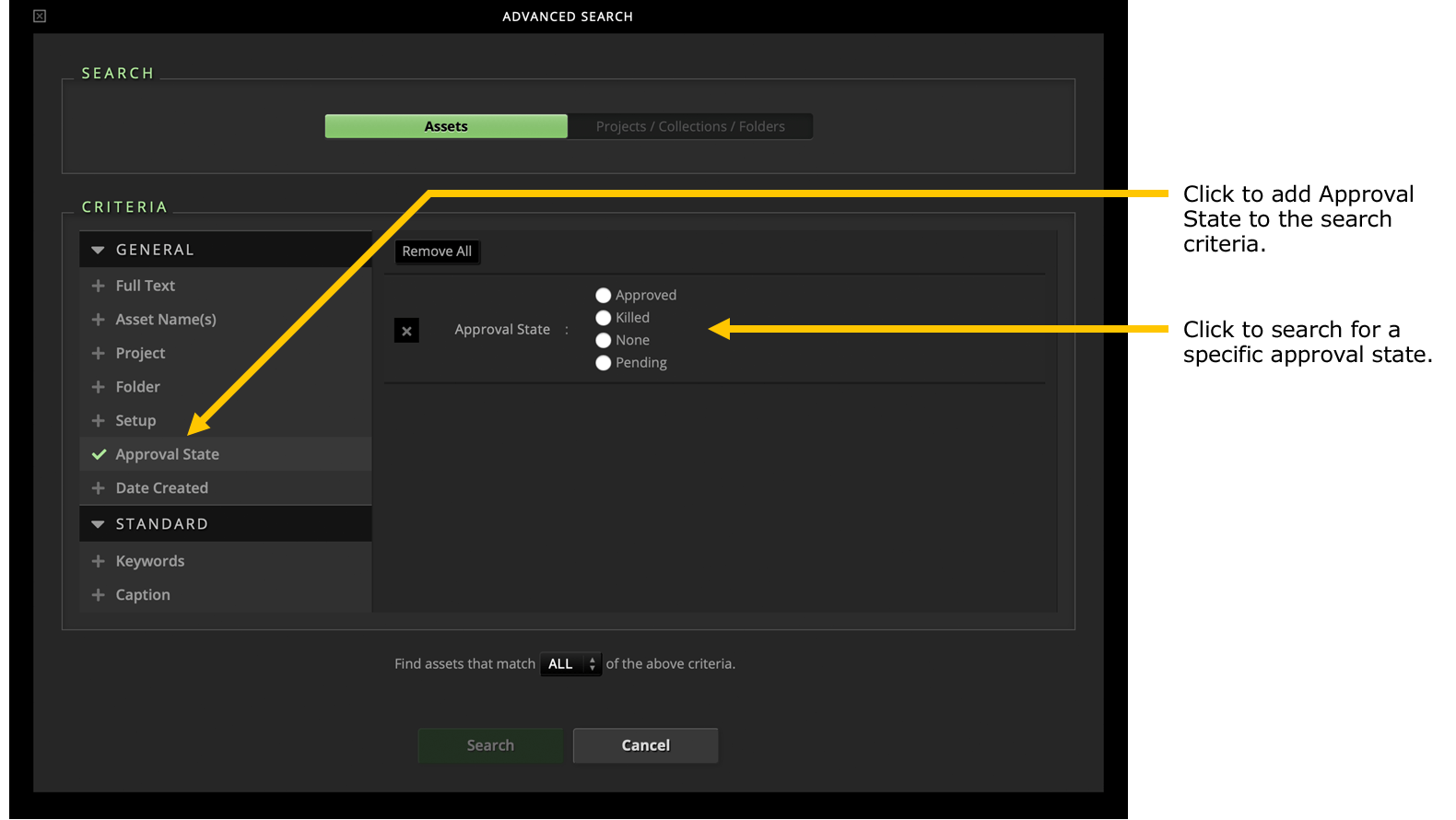 For a detailed guide to configuring an advanced search, see DF Studio Advanced Search.
Approval State is also an available parameter when searching within a Project or Collection. For more information, see Search Within a Project or Collection.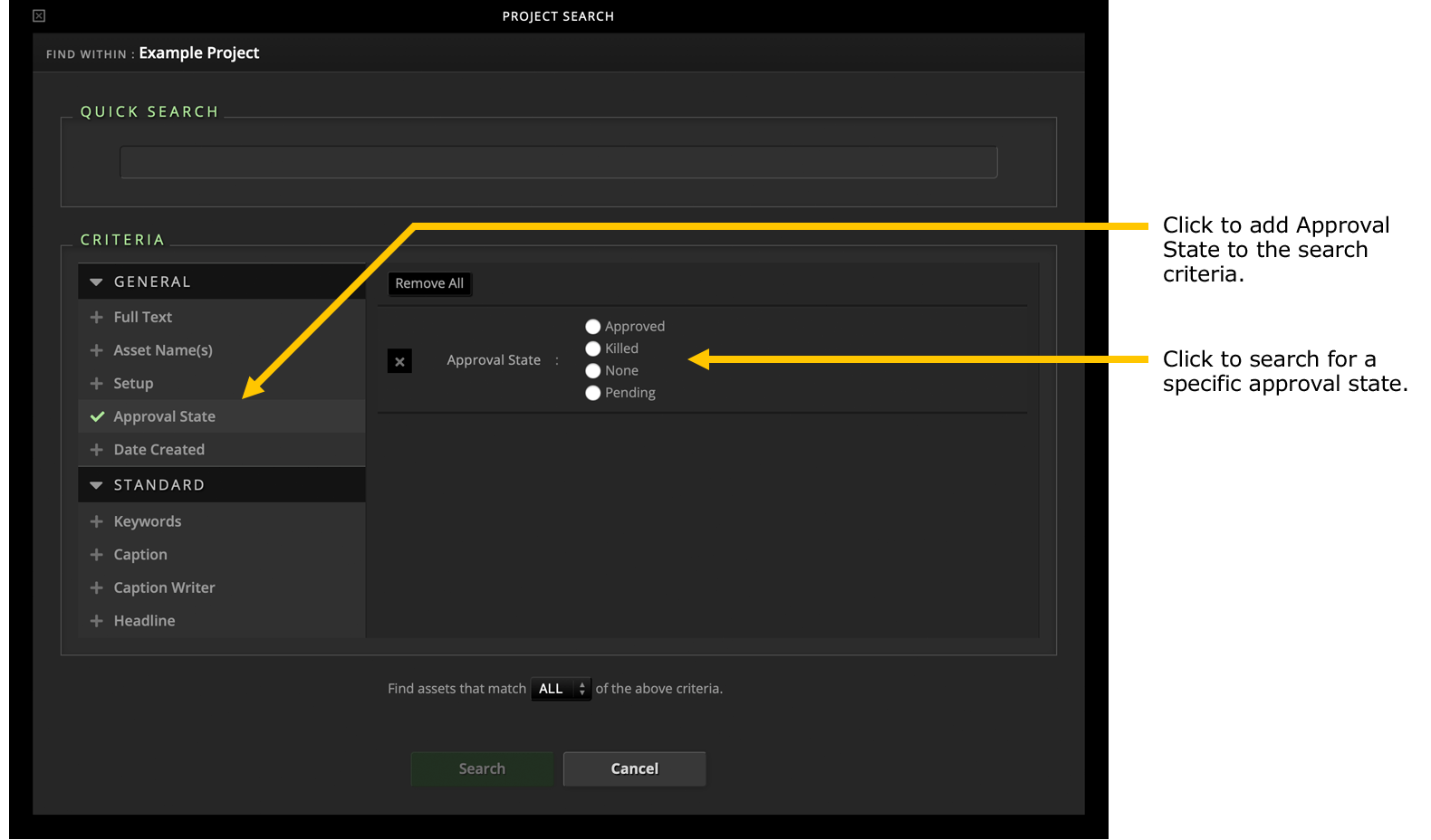 Reset Approval State
If it becomes necessary to remove the approval state of an asset (or assets), to resubmit for approvals or to clear away outdated information, this can be accomplished by clicking the "Reset Approvals" button in the Asset Inspector with the appropriate asset or assets selected. For more detail about this operation, see Reset Approvals.