DF Studio's global search box is designed to make it as simple as possible to find images (and other Project assets) throughout an account by searching across many fields at once, such as filename, Project name, Setup name, as well as keywords and photographer information. For additional control, an advanced search page can be used to search specific fields; alternatively, operators may be used for more fine-grained searches.
Global Search Functionality
Multiple words entered into the global search field at the top of the left sidebar are matched against any of the fields in the search index. DF Studio assets that contain a partial match for the search term will also be included. For example, a search for cloud would match "cloud", "clouds", and "cloudy".
Search Results
Search results are automatically "faceted" on attributes such as keywords and project names. These facets appear above the search results and make it easy to "explore" within a set of search results. Clicking on a facet filters the results to just images that match that facet's criterion. For example, clicking a keyword "beauty" facet would limit the results to only images that have the "beauty" keyword. Multiple facets may be clicked to further refine the search. Facets may also be removed to broaden the results by removing that facet from the filter.

The tabbed results screen makes it easy to switch between result types. Clicking on either of the Assets or Projects tabs shows the matching results for the last search term(s). The next search performed will default to the last-used result type.

For more information about configuring the facets displayed in search results, see Configure Search Result Facets.
Working With Search Results
A number of operations can be performed directly from the Image Search Results by selecting one or more assets:
Add to Bin
Add to Collection
Move to Project
Metadata (Batch Metadata editor)
Download
Send (Messenger)

See Use Quick-Access Buttons to Organize Assets Instantly for more information about the buttons in the Navigational Sidebar.
The Previous button (when enabled) returns to the most recently displayed search results, even after navigating to other parts of DF Studio.

Advanced Search
The Advanced button opens the Advanced Search page. This page allows performing very specific searches on selected fields. For example, the Folder menu can be used to limit the search to a particular folder (and any nested folders) or the Date field can limit the search to images from a certain time period.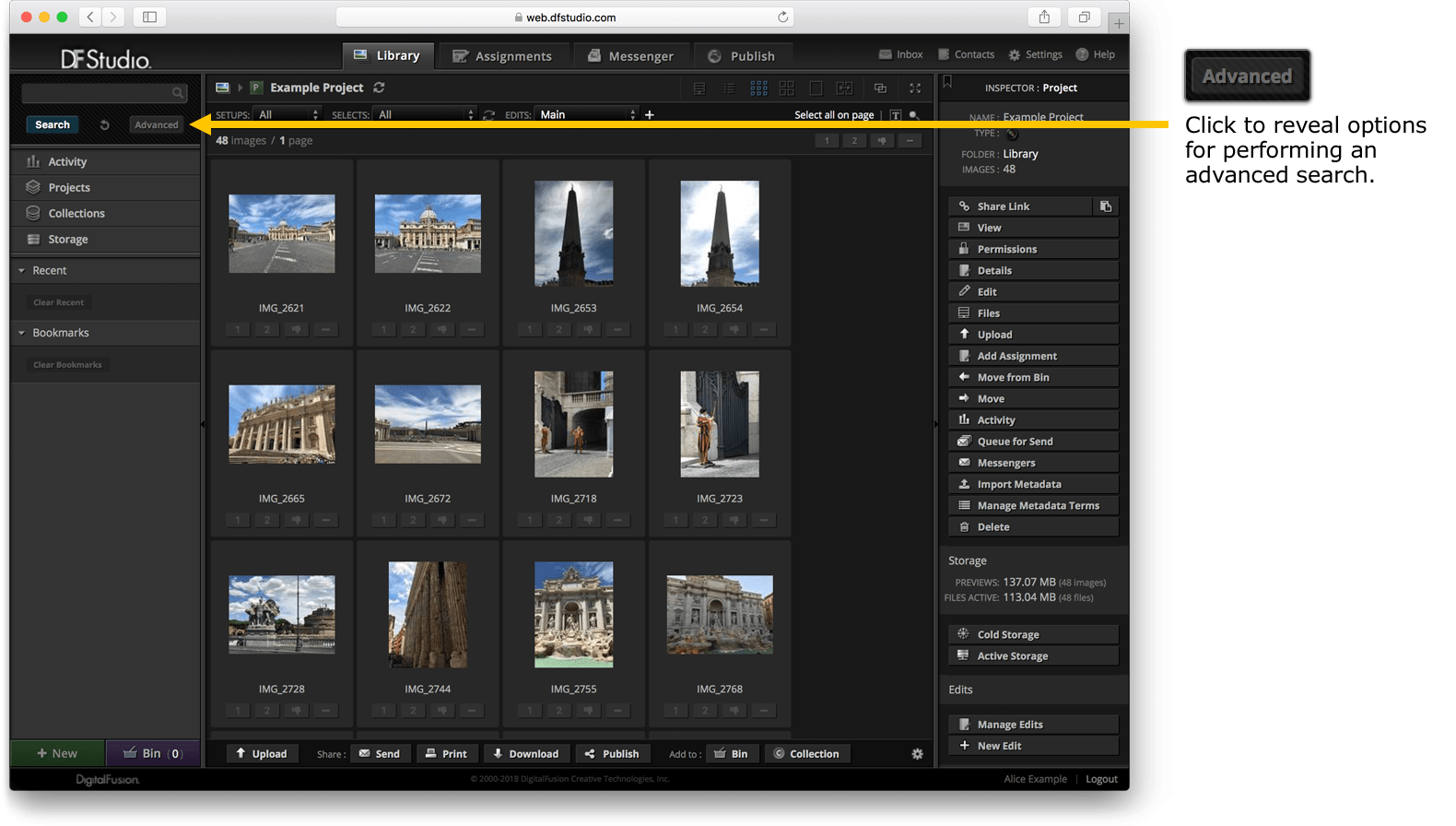 For more information, see DF Studio Advanced Search.