Once successfully logged in using valid DF Studio credentials, DFS Speed Link will display the New Project screen by default. (Steps for uploading to an existing Project are included below.)

Create a New Project
1. Enter a new Project name in the "New Project" tab.

2. Optionally, select a Folder in which to organize the Project. Additional Project details may be entered by clicking the "Show Details" menu to reveal the Project metadata fields.

3. Click "Continue" to advance to the upload interface. Skip to step 4 below.
Upload to an Existing Project
1. Click the "Existing Project" tab, and use the menu to select the DF Studio Folder containing the desired Project, or use the search field to search by Project name.
2. Click to select the desired Project for uploading from the list.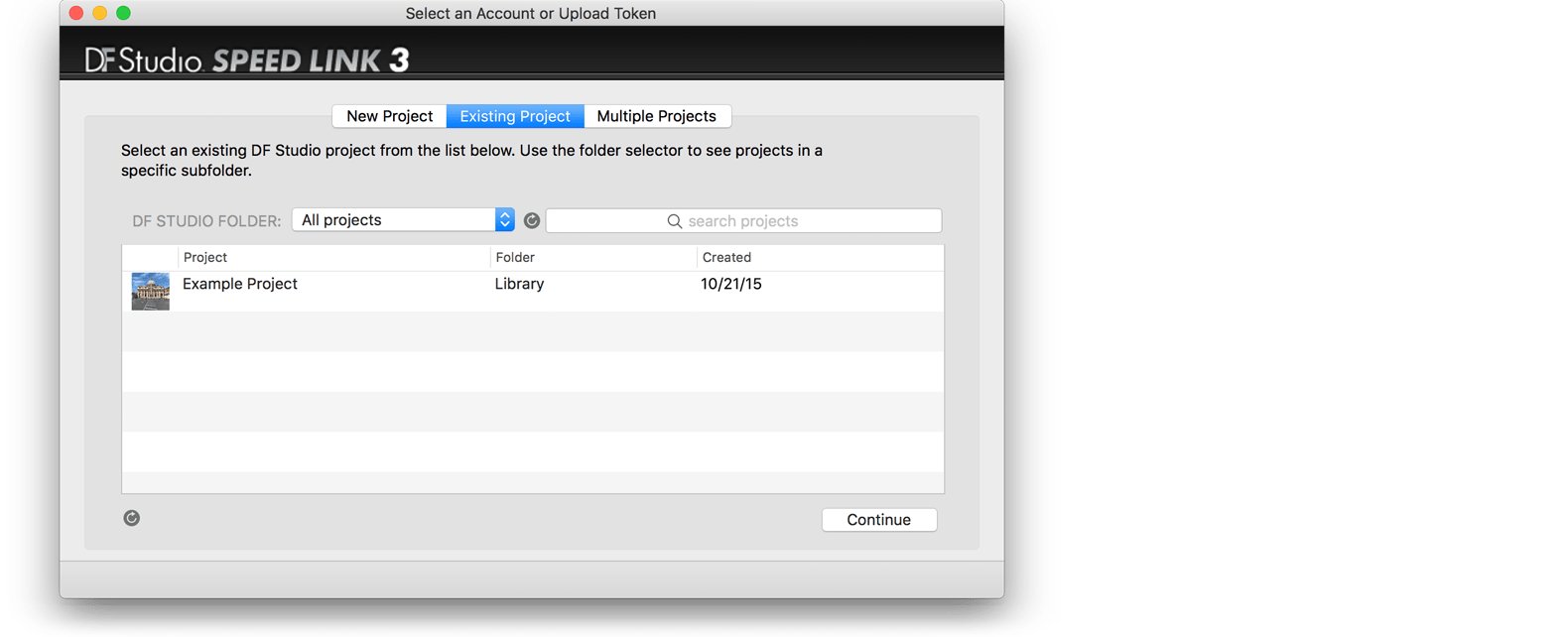 3. Click "Continue" to advance to the upload interface. 
4. Click "Select Files" to browse the computer's local files and folders, or drag and drop files into the window to stage the assets and prepare them for uploading.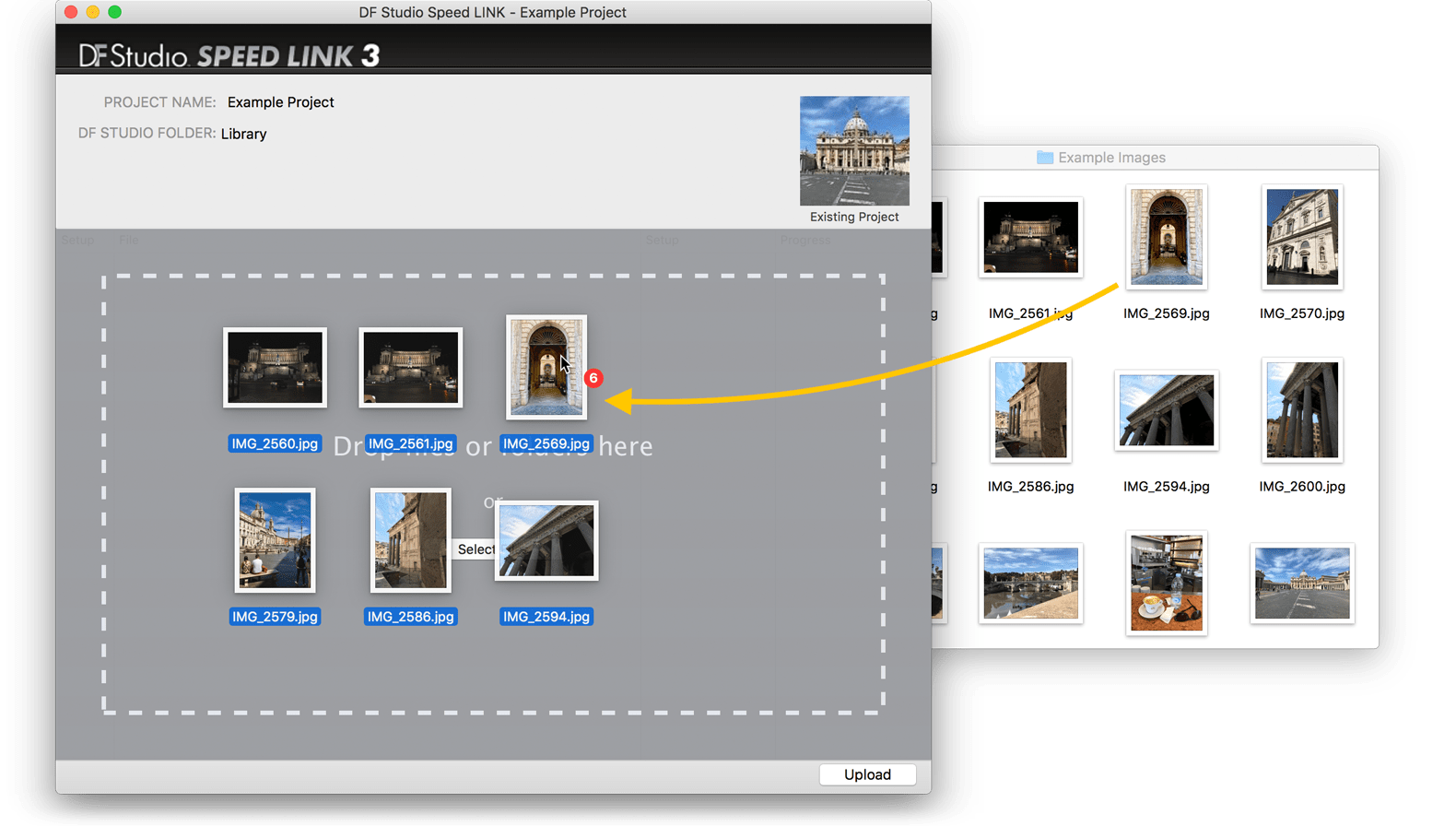 5. If additional files are needed, click "Add More" to browse the computer for additional files or folders.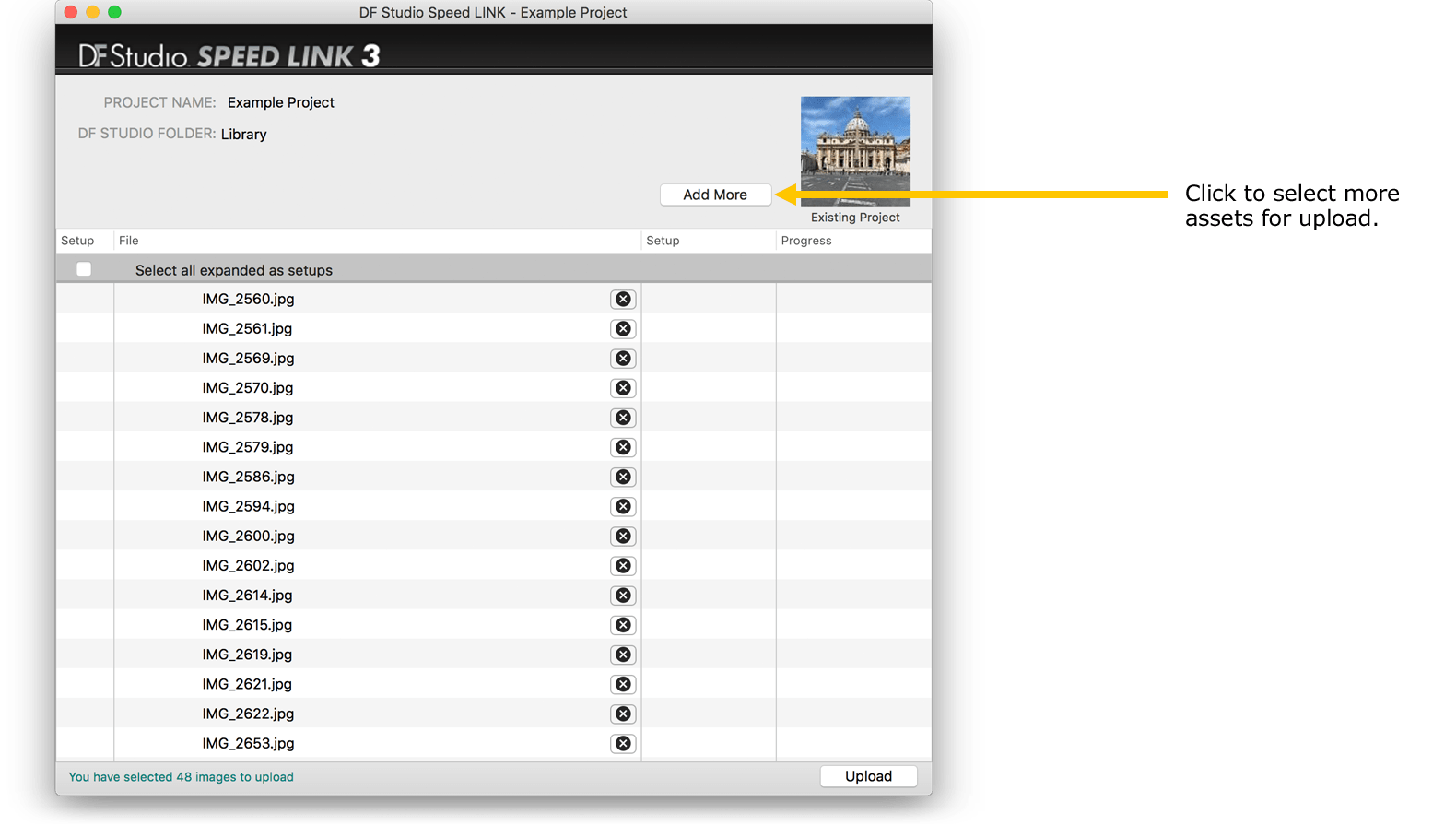 6. Verify the status of the "Setup" checkboxes. Checking the "Setup" box alongside any folder will create a Setup matching the name of the folder and assign the folder's images to that Setup.
To learn more about Setups in DF Studio, see Use Setups to Group Files Within a Project.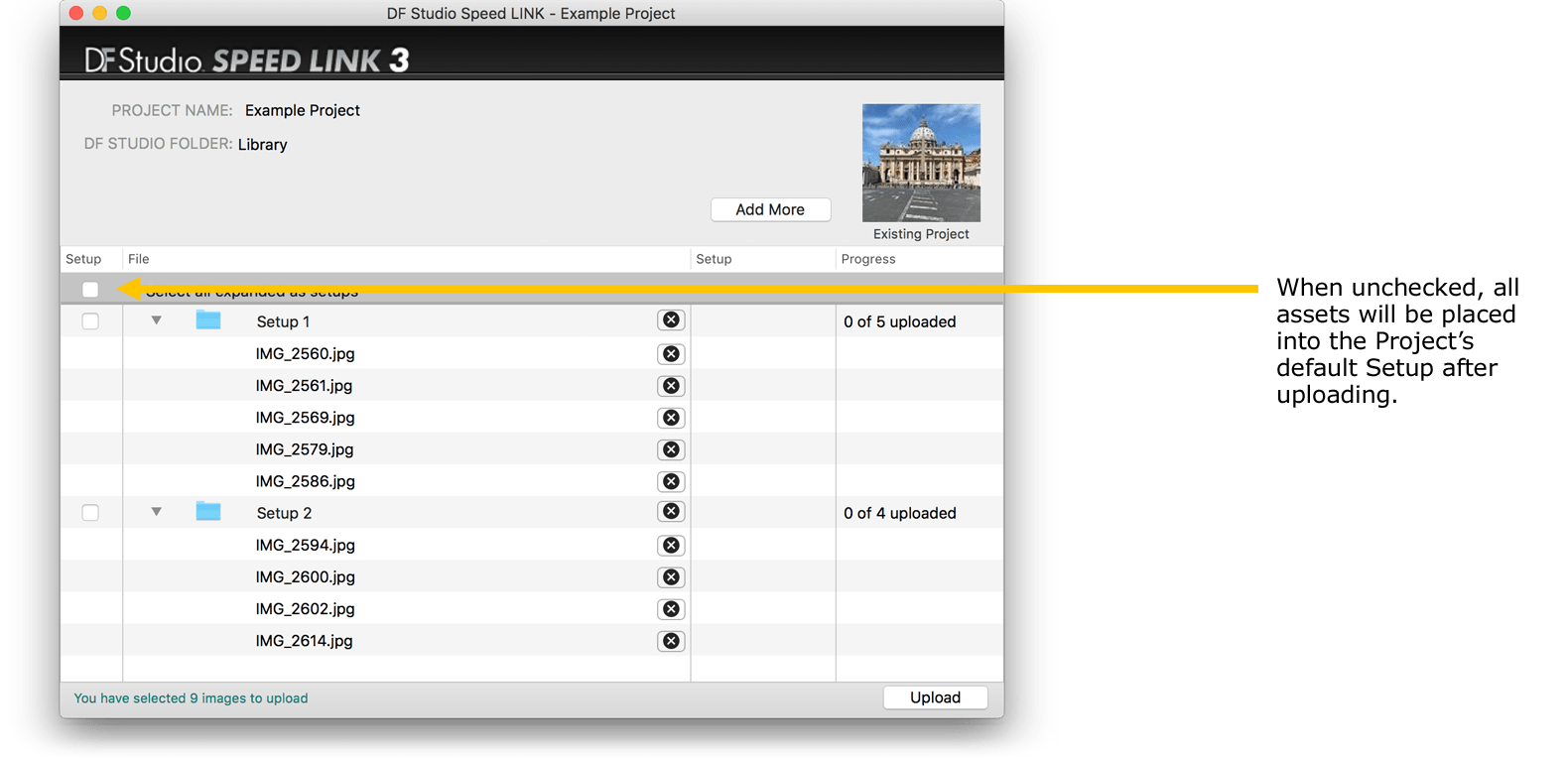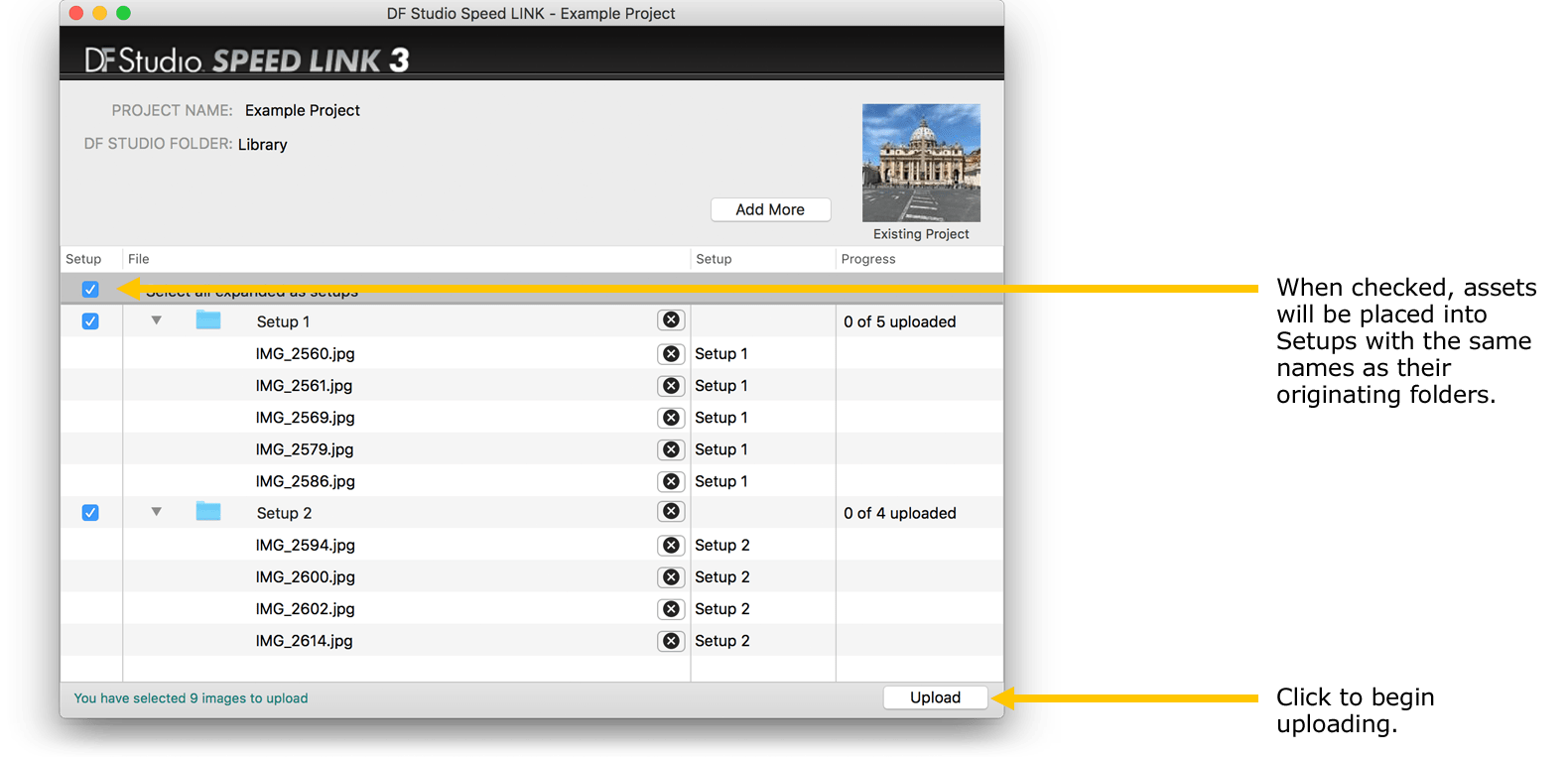 7. Click "Upload" to start the upload process.
DFS Speed Link does not support reorganizing files or dragging them into folders within the DFS Speed Link interface. Compose the desired folder structure on the uploading computer, then drag the folder(s) into DFS Speed Link.
Issues During the Upload Process
Some files may encounter errors during the upload process. Do not halt the upload process for these errors. DFS Speed Link will detect the errors at the end of the upload and will display a prompt for retrying those files.
If the upload process appears to be stuck, it may be helpful to toggle the "Upload" button once or twice to resume the process.
If the DFS Speed Link application happens to crash, it is possible to continue uploading assets to the same Project after relaunching DFS Speed Link. Switch to the "Existing Projects" tab and see the instructions above for Upload to an Existing Project. (It may be necessary to log in again to reach the "Existing Projects" tab. For more information, see Log In to DFS Speed Link.)