Most DF Studio accounts include an option for requiring a six-digit PIN from any recipient accessing a particular Messenger. While every Messenger link is secure and unique, this feature provides an extra layer of protection in case a Messenger link should fall into the wrong hands.
The process of accessing a Messenger using a PIN is similar to DF Studio's Browser Verification feature—each time a Messenger recipient accesses a protected Messenger link from a new web browser, his or her identity must be verified by inputting a six-digit PIN which is distributed by email when requested by the Messenger recipient. Further detail about the configuration and use of Messenger PINs is provided below.
Enable Messenger PIN
If available on the DF Studio account, an option will be presented when configuring a new Messenger. Click to turn on Require PIN in the "Security Options" section, then continue with the process of setting up the Messenger for distribution. A unique PIN will be sent to each recipient by email when the Messenger is accessed.
It is not necessary to create the PIN—this will be generated automatically by DF Studio when needed.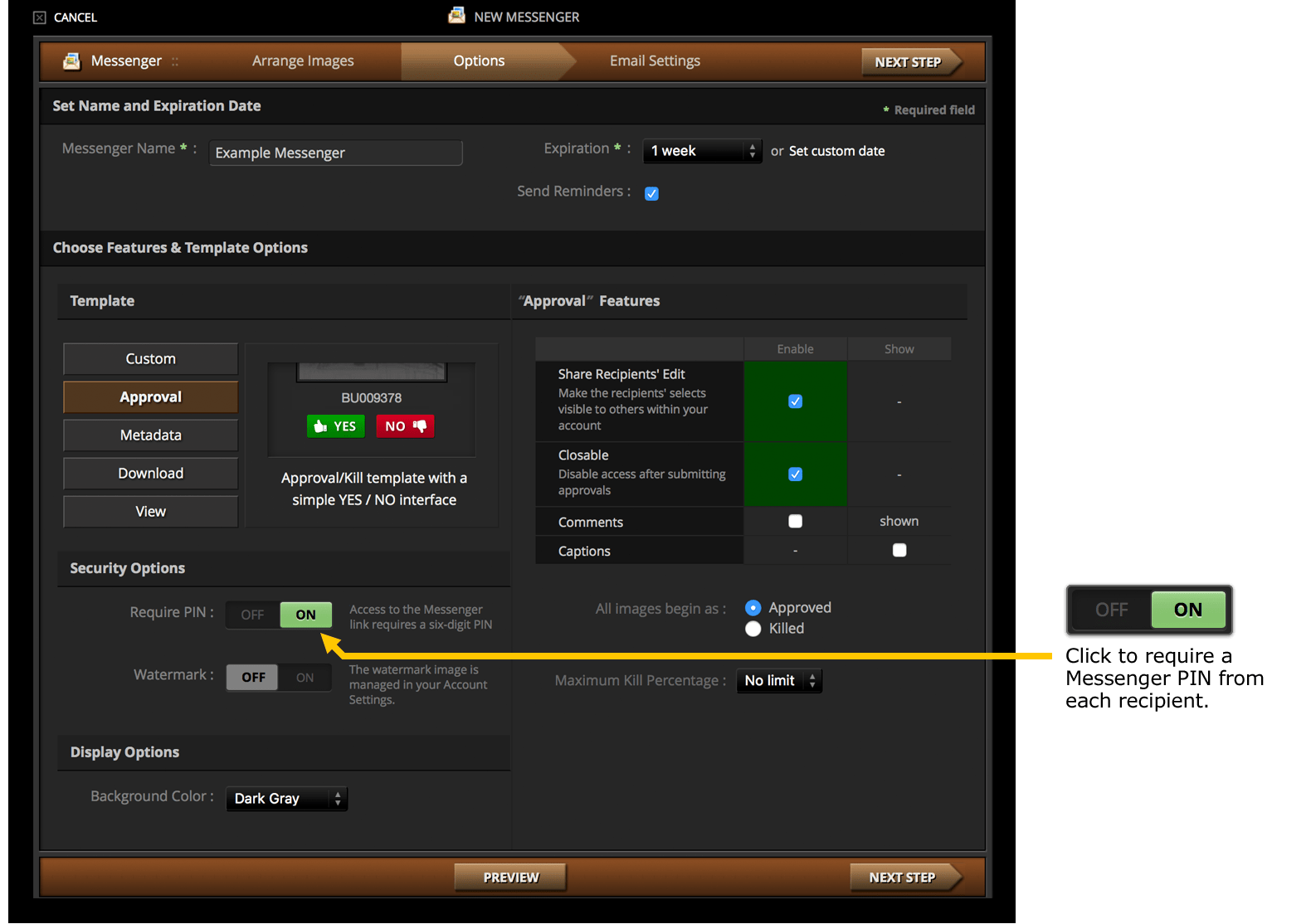 Access a Messenger With a PIN
When recipients open a new Messenger which requires a PIN, DF Studio will check to see if the same recipient (email address) has been verified in the current web browser for Messengers from that source. If so, the Messenger will be opened and the recipient will have access to its contents. If not, a new Messenger PIN will be needed. Clicking the "Email Messenger PIN" button will generate a new PIN and deliver it instantaneously to the same email address to which the Messenger was sent.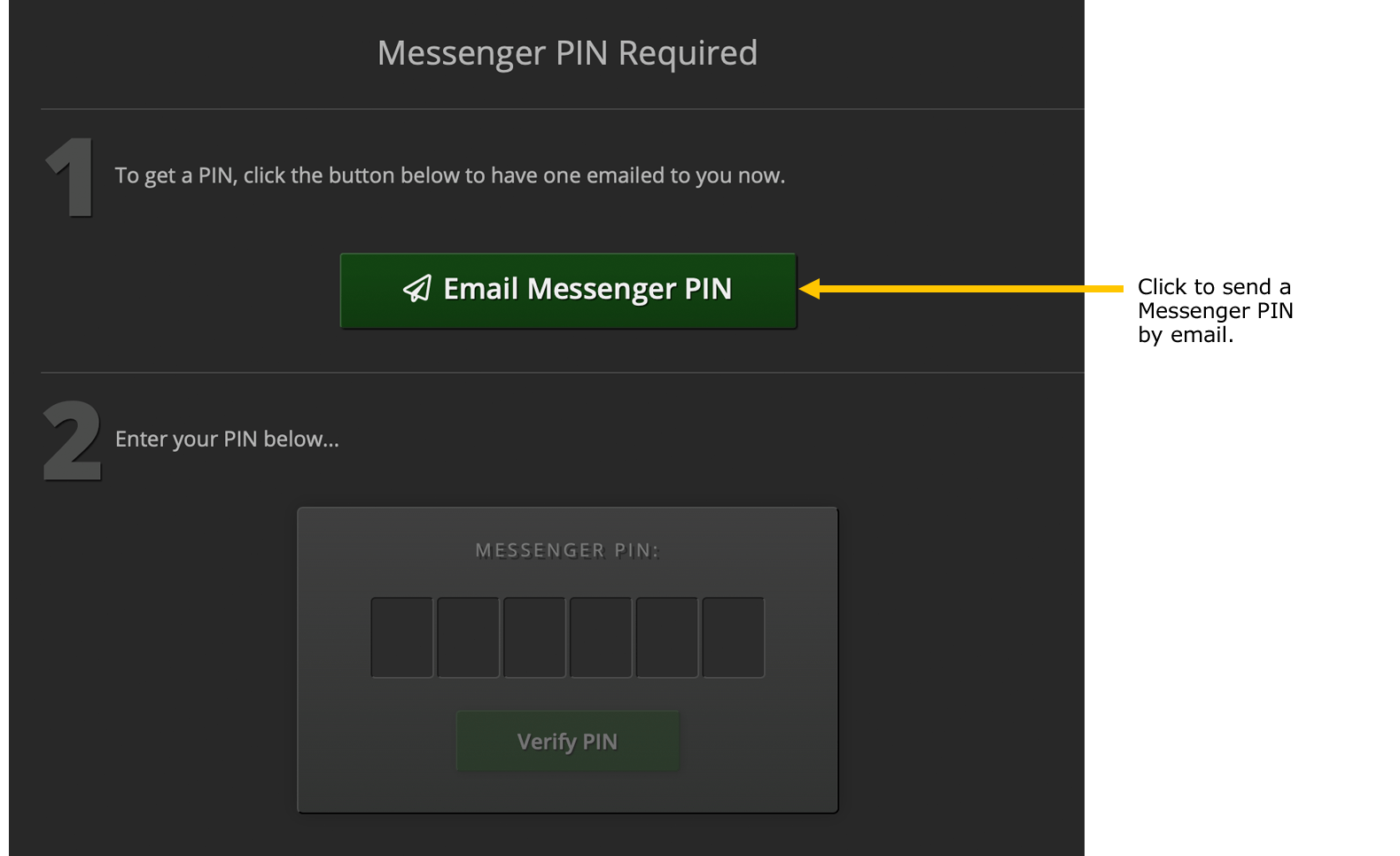 The recipient can then type the PIN into the Messenger window and gain immediate access to the Messenger contents.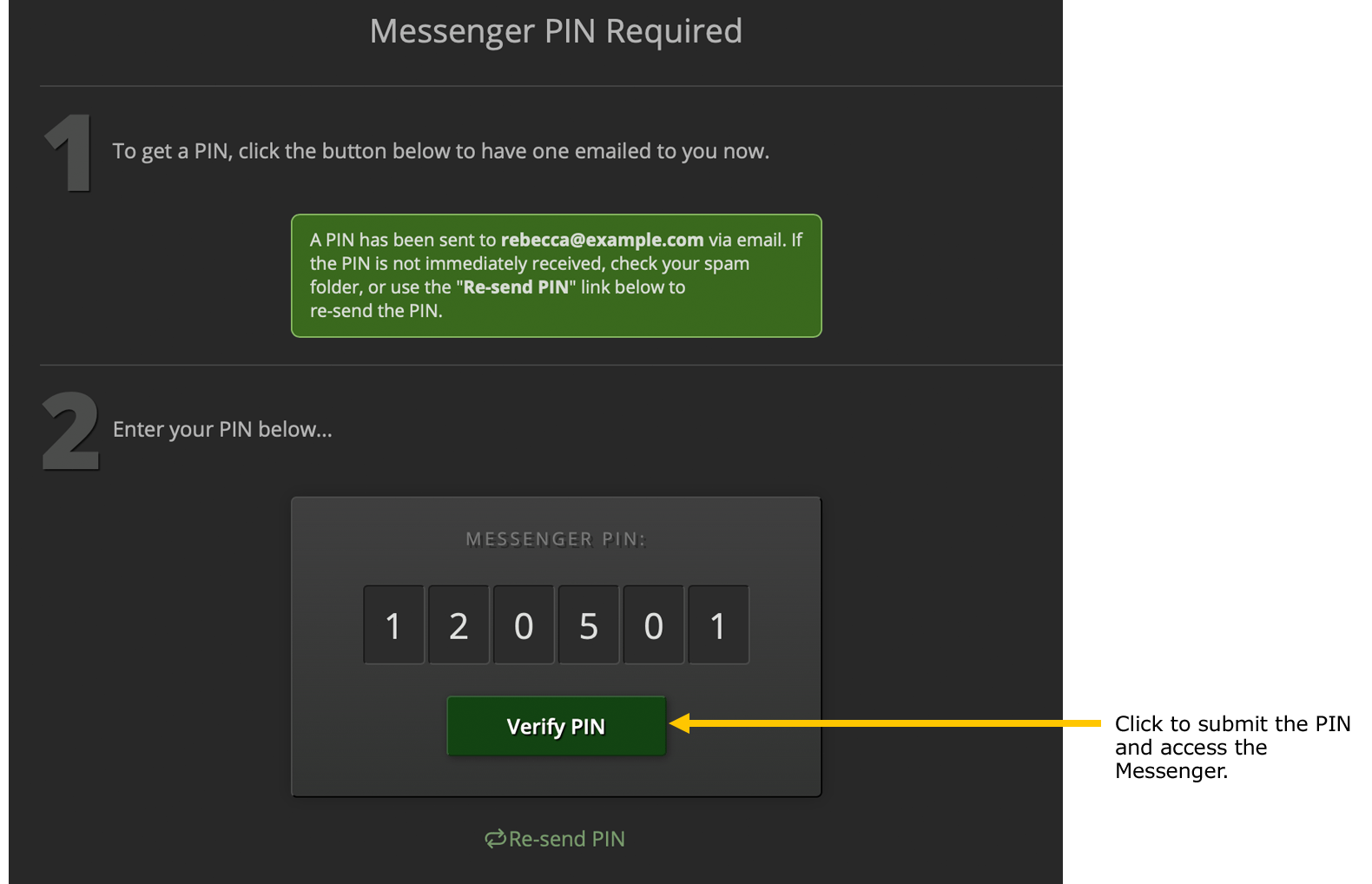 Modify Messenger PIN Settings
After a Messenger has been sent, it is possible to enable or disable the Messenger PIN requirement. Visit the Edit Messenger Details screen (illustrated instructions at View or Re-send a Messenger) and update the desired Messenger PIN setting. The new setting will take effect the next time each recipient loads the Messenger.
Messenger PIN Expiration
Once a PIN is used, it is expired from the system and a new PIN will be generated the next time a protected Messenger needs to verify the recipient. If unused, the PIN will expire automatically after 12 hours.
Once a recipient's web browser and email are verified by a PIN, the verification remains active for a period of six months. During this time the recipient will not be required to enter new PINs to access protected Messengers from the same DF Studio account.
Reset a Messenger PIN
Each PIN that is sent to a Messenger recipient can be used only once. If there is concern that a Messenger PIN may have been shared with an unauthorized party, contact DF Studio Support to reset the PIN. This will invalidate all access for that recipient to any protected Messengers, past or future, across all browsers. The recipient will then be provided with a new PIN the next time a protected Messenger is accessed, as described above.
If it is preferable to expire the entire Messenger, for one recipient or all recipients, see instructions in the following article: Messenger Expiration Dates.