The powerful features contained in DF Studio's Notes tab facilitate communication within a DF Studio account, and can also be shared with Messenger recipients to collaborate with associates outside of DF Studio.
For guidance in the use of Notes features from the perspective of a Messenger recipient, see Work With Notes in a Messenger.
Share Notes Content
When sending a Messenger from any single DF Studio container (Project or Collection), any Note from that container can be attached. (Notes cannot be enabled when sending a Multi-Messenger.) The description and list from the Note will be visible to all Messenger recipients. Recipients will be unable to edit this content, except to check or un-check items from the list. (For further details regarding Notes content, see Organize Communication With Notes.) Updates to this content in DF Studio will propagate to all Messengers within a few moments.
The Conversation from the DF Studio Note will not be visible to Messenger recipients. If desired, individual comments from this Conversation can be copied to the Note's list, and made visible in the Messenger. For a guide to this process, see Copy a Comment to the List.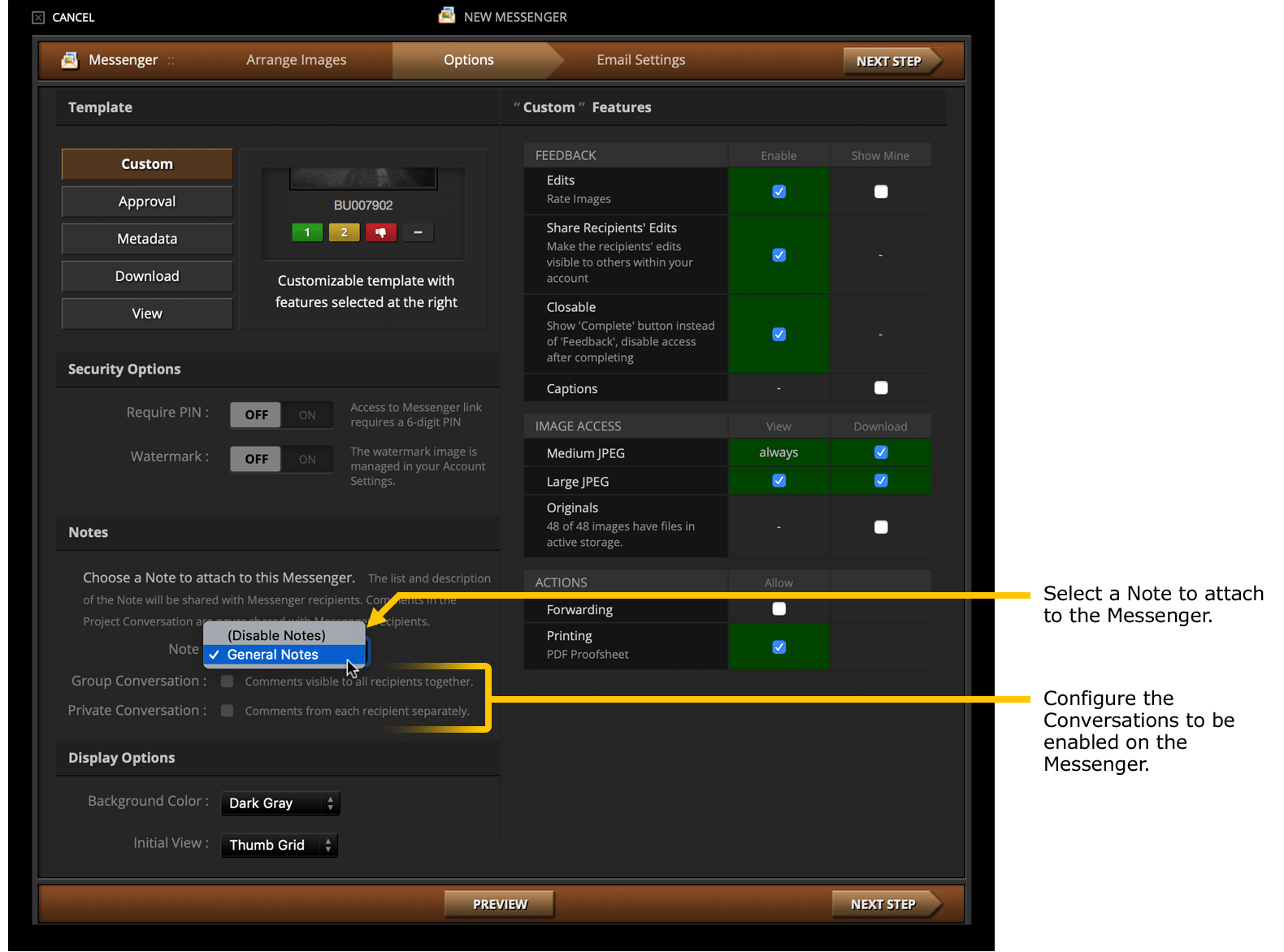 Enable Conversations on a Messenger
When sharing a Note with a Messenger, its DF Studio Conversation is not shared with Messenger recipients (see above), however new Conversations can be enabled specifically for the Messenger. If enabled, these Conversations will be accessible in the Notes tab of the Messenger sent to recipients. DF Studio account holders will see the Messenger Conversations listed in the Notes tab of the associated container, just below the DF Studio Conversation for that Note.
Messengers support two types of Conversations: Group Conversations, among all recipients of the same Messenger; and Private Conversations, between each individual recipient and the sender. These can be enabled separately, meaning it's possible to have both Conversations enabled on a Messenger, or neither, or just one.
When configuring a new Messenger, make sure that the desired Note is selected in the Notes section of the New Messenger overlay, then check the boxes to enable the intended Conversations.
When Group Conversations are enabled, the Messenger will include a list of all recipients, so that Conversation participants know who is present in the Group Conversation.
Conversations can be enabled on a Note even if its description and list are empty.
Comments from Messenger Recipients
New comments from Messenger recipients will appear in the Conversations section of the Notes tab under the associated Note within moments of being submitted in the Messenger. (In a Group Conversation, they will appear in the Messengers of other recipients as well.)
Within DF Studio, these comments can be seen by any DF Studio admin user, as well as the user who sent the Messenger. DF Studio users can reply to the comment thread directly in the Conversation. Comments can be copied to the list if desired, or deleted (by admin users) if necessary. (See Edit Notes Content for details.)