Asset metadata plays a significant role in any production workflow, and because DF Studio writes metadata changes back to the original file, an effective metadata strategy will also contribute to any sharing and archiving processes.
In DF Studio, asset metadata is edited in the Metadata overlay or the Metadata tab of the Asset Inspector. Select an asset (or assets) and click the Metadata tab of the Asset Inspector to edit directly alongside asset previews. (To open the Metadata overlay, click the "Metadata" button from the Asset Inspector's Info tab.)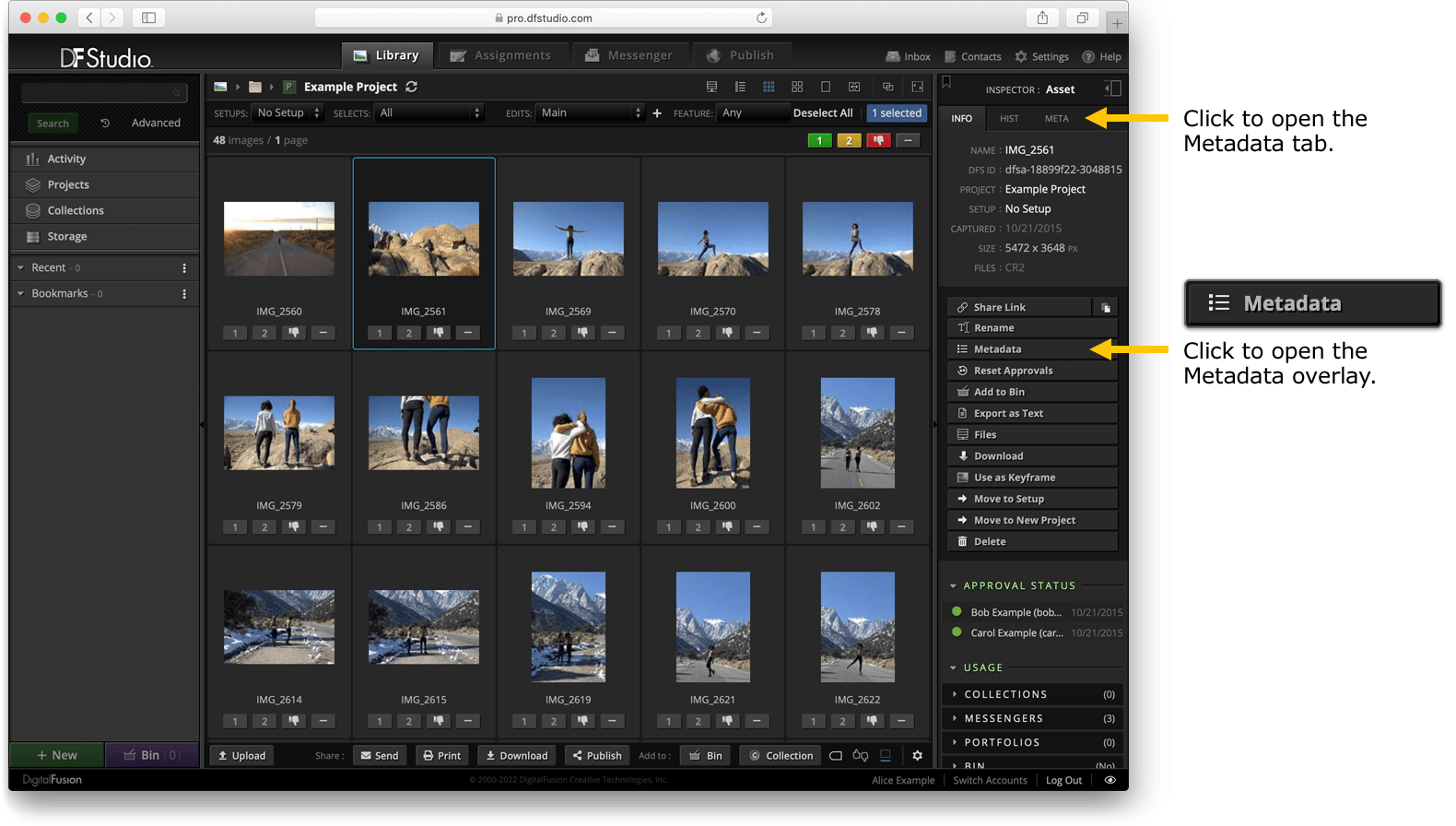 Existing Image Metadata
When image files are uploaded, DF Studio automatically extracts and stores any metadata that is already attached to the image, including camera information, photographer, copyright, keywords, etc. This information can be viewed in the Full Metadata section of the Metadata editing tools, and those fields which are editable (e.g., keywords, copyright, etc.) will also pre-populate with the information loaded from the original file.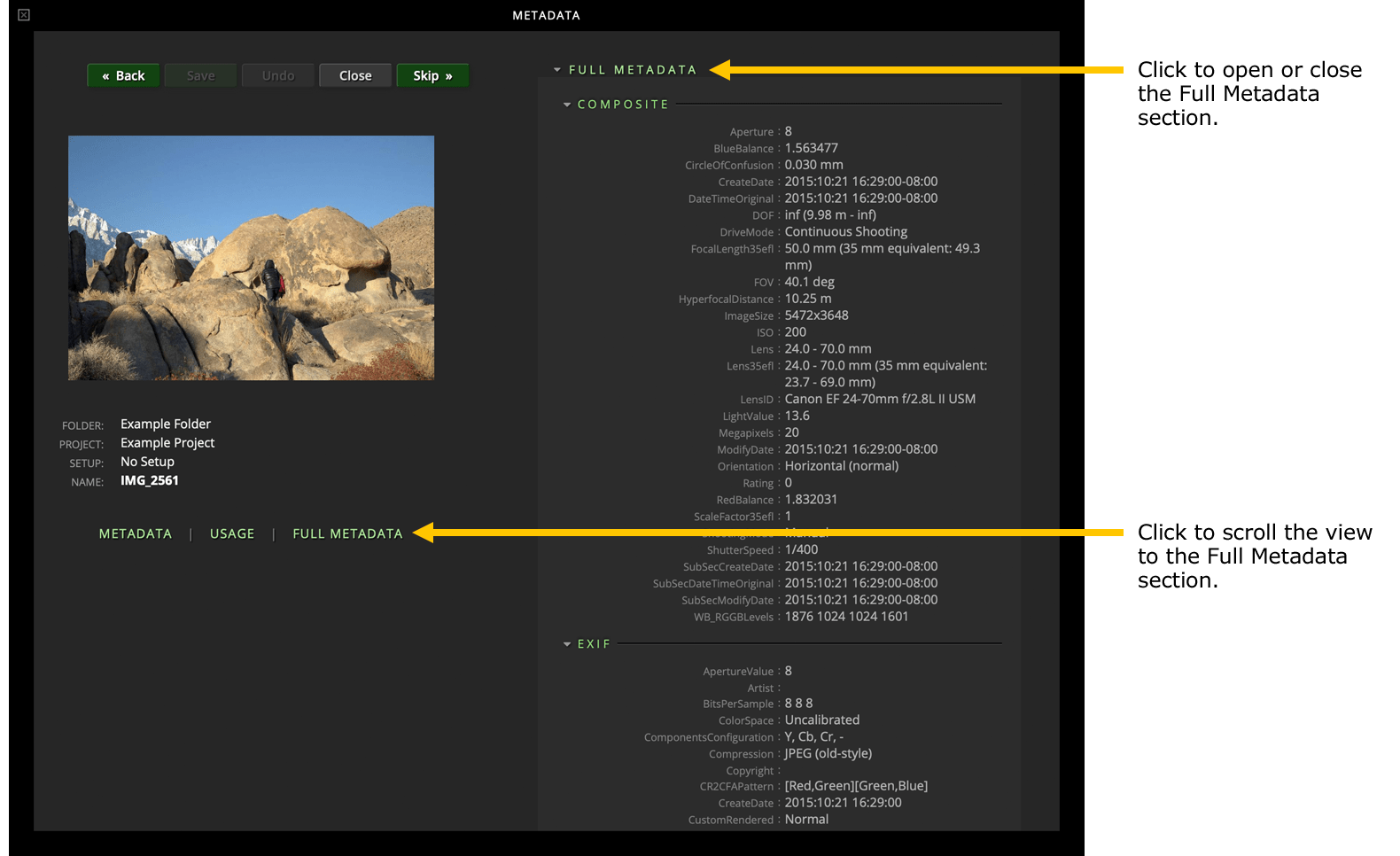 Filter Metadata Fields
The DF Studio metadata editor includes a series of filters to streamline the process of editing metadata. Filters help narrow focus to those fields specifically related to the current editing operation.

Varied (Only enabled when multiple assets are selected): Displays metadata fields in which the information differs from one asset to another within the selection. For example, activating the "Varied" filter will show the "Keywords" field if multiple assets are selected that each contain different keywords.
Uniform (Only enabled when multiple assets are selected): Displays metadata fields in which the information is identical for all currently selected assets.
Filled (Only enabled when a single asset is selected): Displays all fields in which metadata has been written.
Empty: Displays fields without written metadata.
Editable: Displays fields that the current user may edit, hiding all read-only fields.
Pinned: Displays fields that have been pinned.
Pinning fields allows for easy filtering, so a user can access a select group of fields easily when editing metadata for subsequent assets. Click the pin icon next to a metadata field to pin that field. Then use the "Pinned" filter to display only those fields which have been pinned.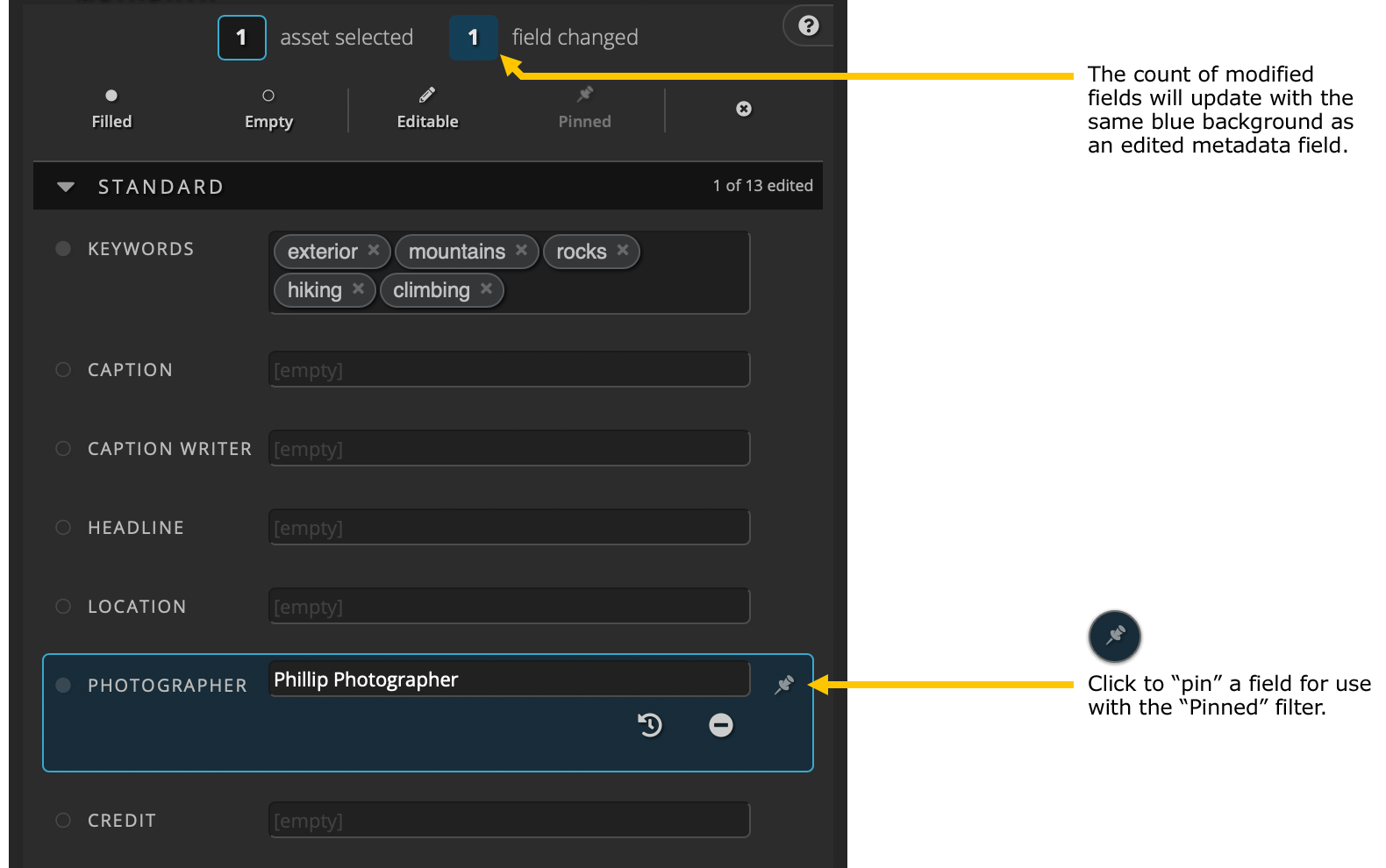 Edit Asset Metadata
Once assets are selected and metadata fields are filtered as necessary, click any field to edit its metadata. The selected field will appear highlighted to indicate that it is ready for editing.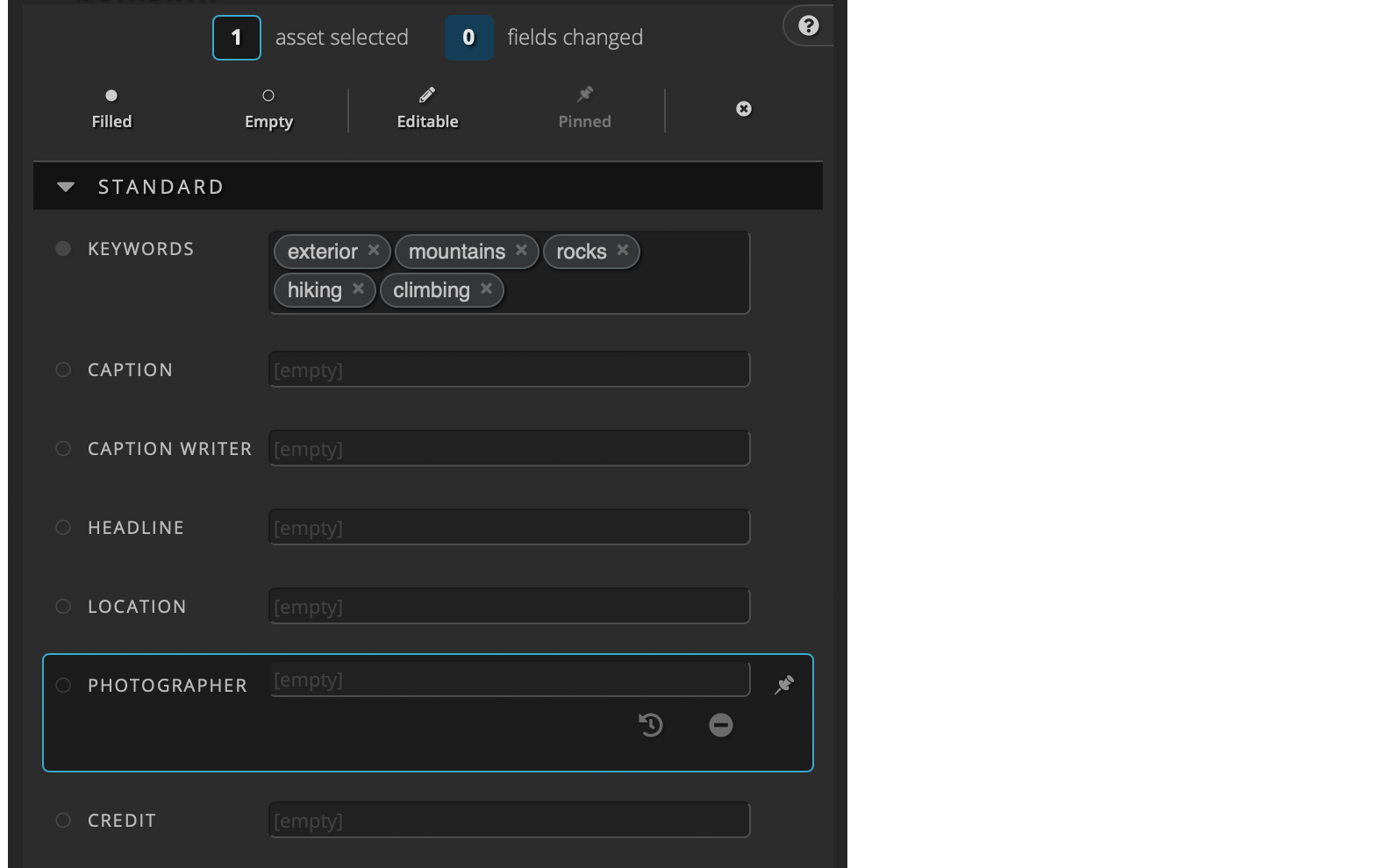 When information is changed in any metadata field, its background will turn blue to indicate the presence of unsaved changes. The "fields changed" indicator (also colored blue) will update as well. It will be necessary to save changes (or reset) before closing the Metadata overlay or navigating to a different asset or element if using the Metadata tab in the Asset inspector. The "Undo" button reverts to the unedited version of the field, and the "Clear" button empties all information from the field.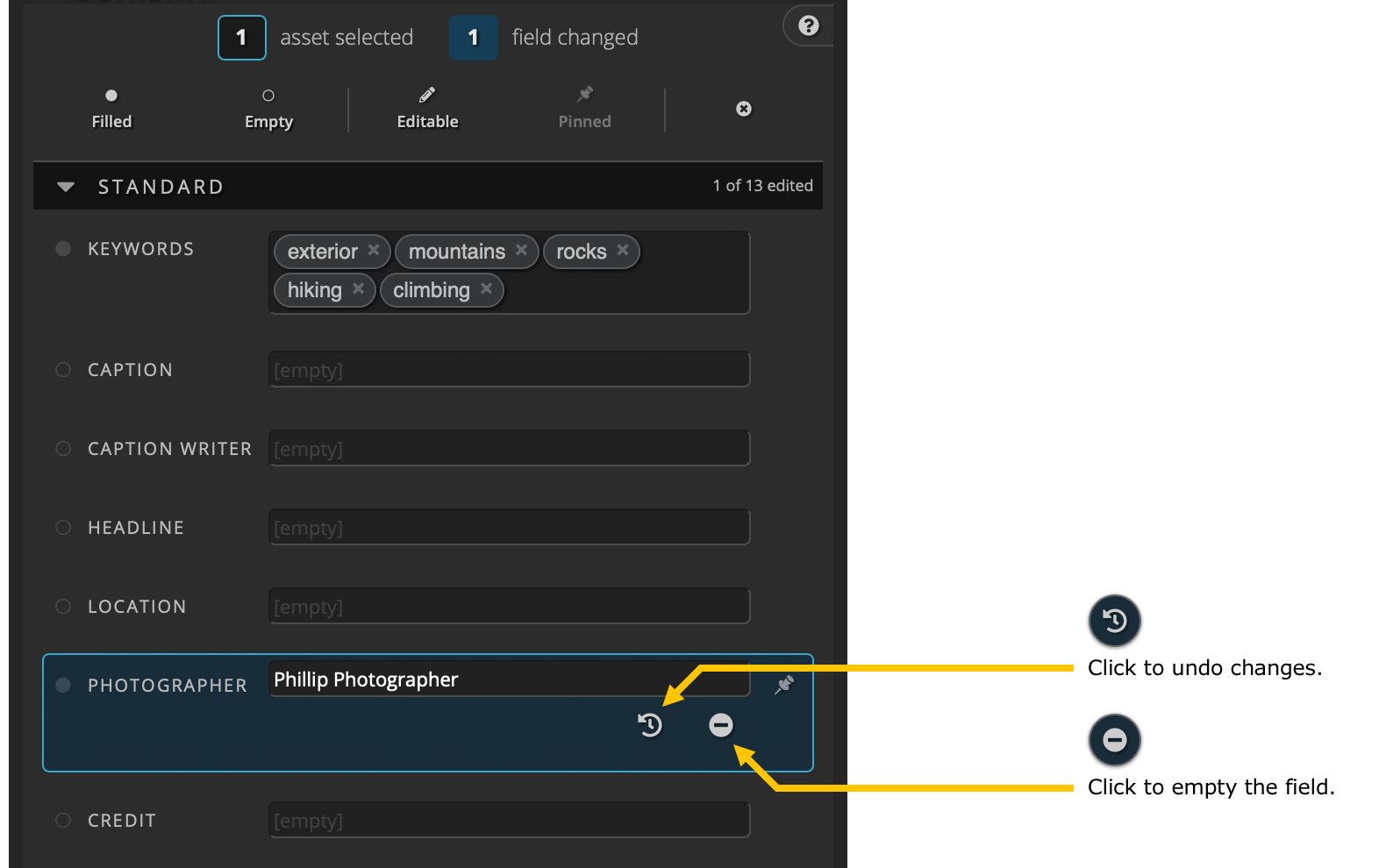 Once metadata editing is complete, click the "Save" button to save the information in the edited fields. (When editing a single asset in the Metadata overlay, clicking "Save + Next" will save the metadata and open the Metadata overlay for the next asset.) Click "Undo" to revert to the unedited version of all modified fields. When multiple assets are selected, clicking "Save" will write the edits to all selected assets.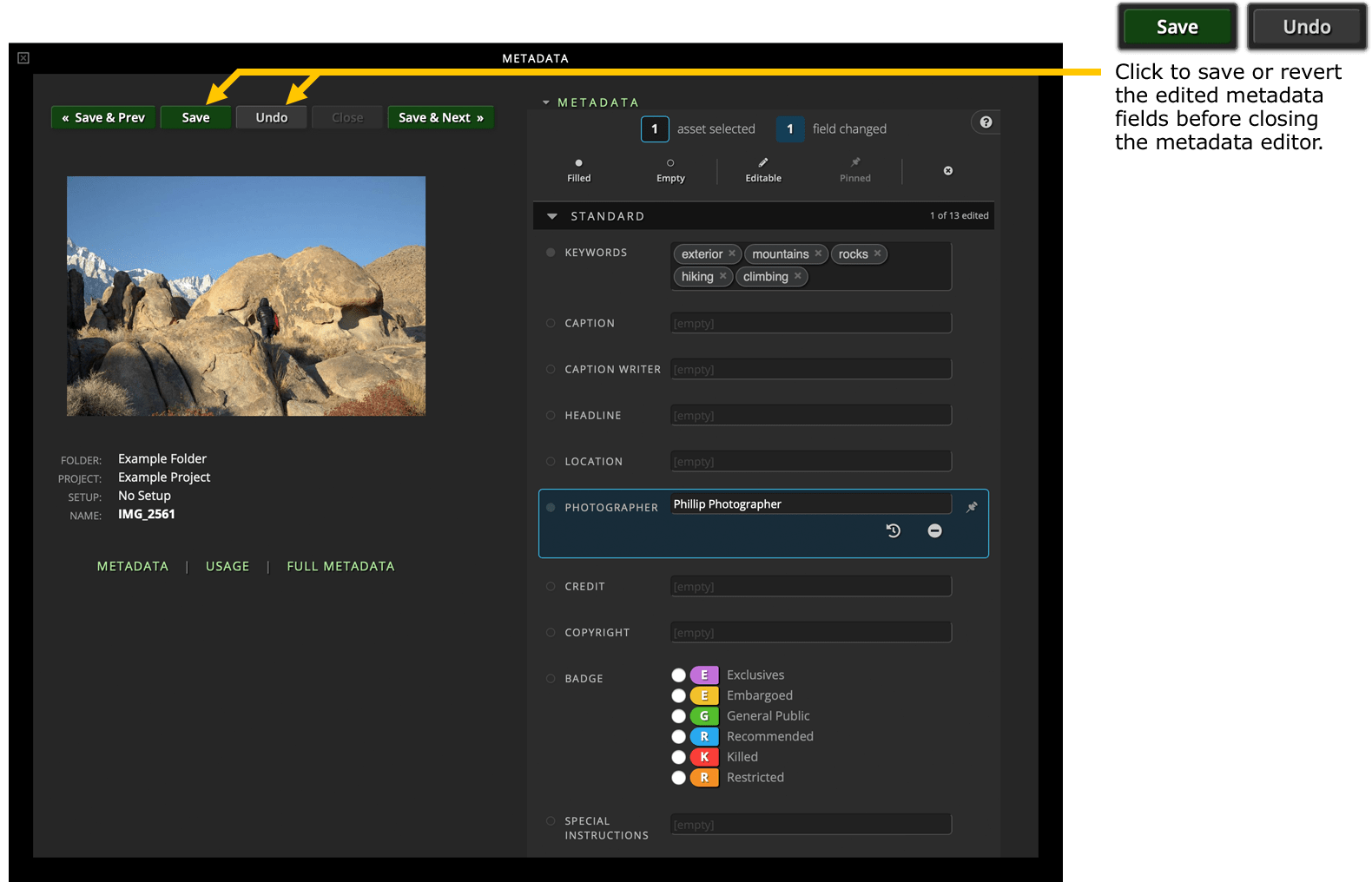 Metadata Terms
For some fields, organizations may choose to attach defined Metadata Terms, which assist in standardizing the values entered in the metadata field (for example, the names of talent featured in certain seasons of a television show, or a controlled keyword vocabulary for interfacing with the parameters of an external asset-management application). These fields may have specialized restrictions; see Assign Metadata Using Metadata Terms for more information.
Import and Export Metadata
In some cases, it is advantageous to work with large sets of metadata in an external application, like a spreadsheet program or text editor. To learn about transferring metadata information between DF Studio and external applications, see Import and Export Asset Metadata.
Metadata Messenger
Metadata can also be contributed by collaborators outside of DF Studio. Send a Metadata Messenger by email, and the recipient will be able to view and edit metadata for the assets distributed in the Messenger without logging in to the DF Studio account. Metadata fields which include defined Metadata Terms will operate exactly the same as they do for DF Studio users. For more information about the Metadata Messenger interface, see Edit Metadata in a Metadata Messenger.