In addition to sharing assets, a LIVE Messenger allows two parties to share their edits in real time. One party must be the account holder, while the other is a Messenger recipient.
For more information about Messengers, see Share Images With a DF Studio Messenger.
1. Optionally, the account holder can perform initial edits by clicking the "1", "2", or "Kill" buttons located under each thumbnail. A LIVE Messenger can also be sent before any edits are made.
2. Click the "Send" button in the toolbar at the bottom of the window.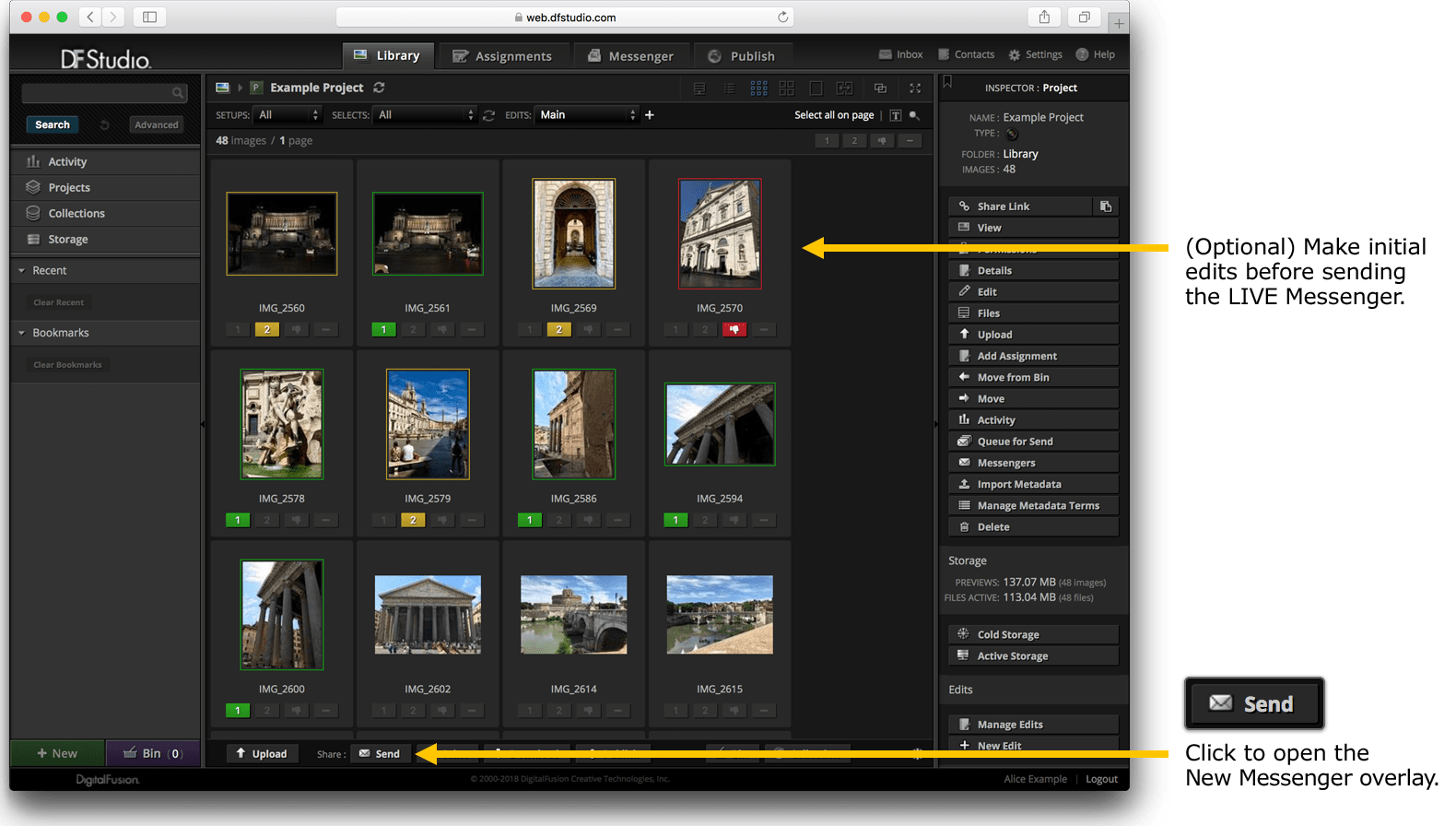 3. Select the LIVE Messenger option from the Send Messenger overlay and click "Continue".

4. In order to make any edits performed by the sender (account holder) visible to the recipient, check the "Edits" box in the "Show Mine" column.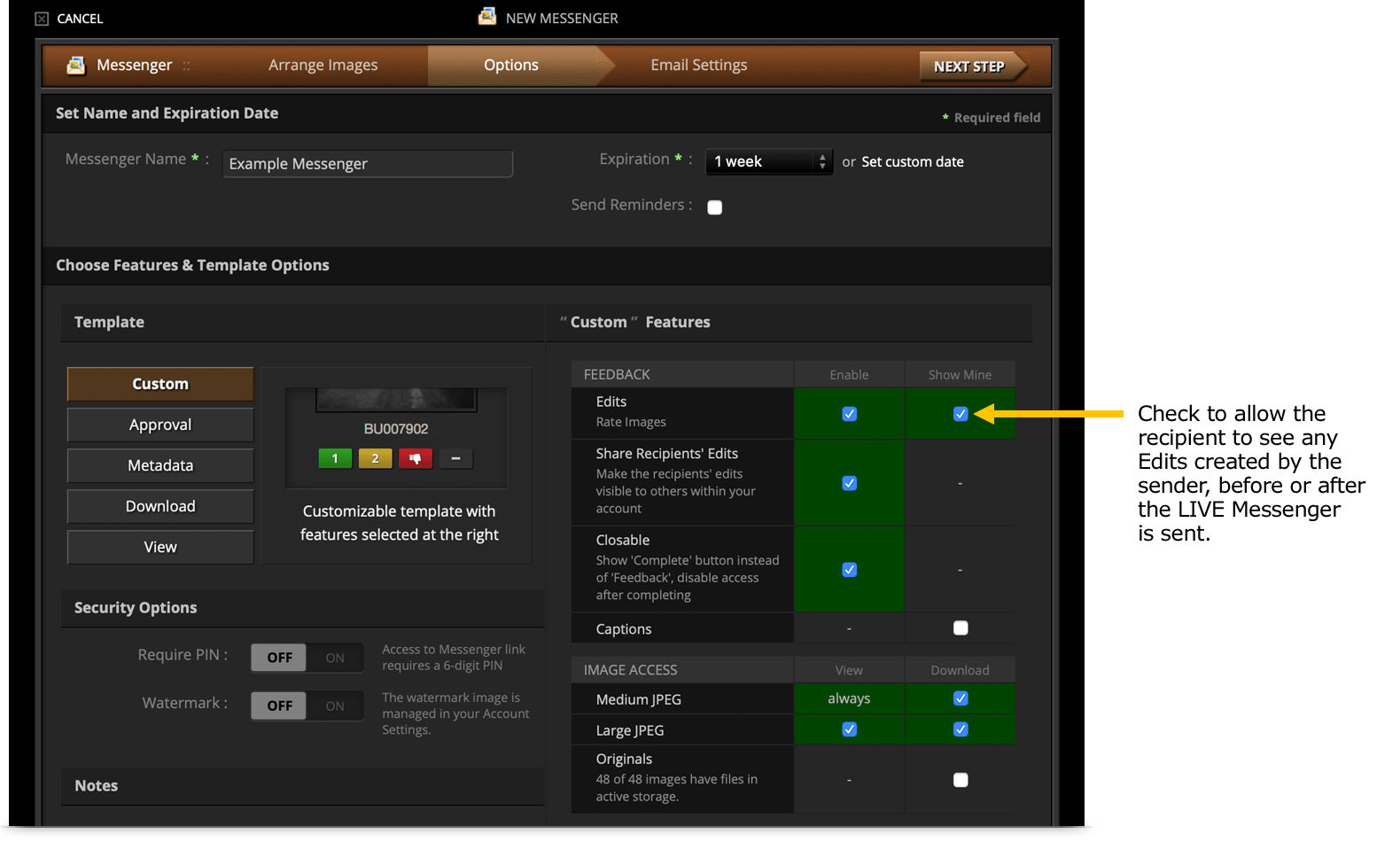 5. Click the "Next Step" button in the bottom right and continue the process of sending the LIVE Messenger to its intended recipients. (For detailed instructions, see Share Images With a DF Studio Messenger.)
6. The recipient will receive notification via email with a link to open the Messenger, which looks like the following example. The account holder's select levels are labeled "Sender's Edits".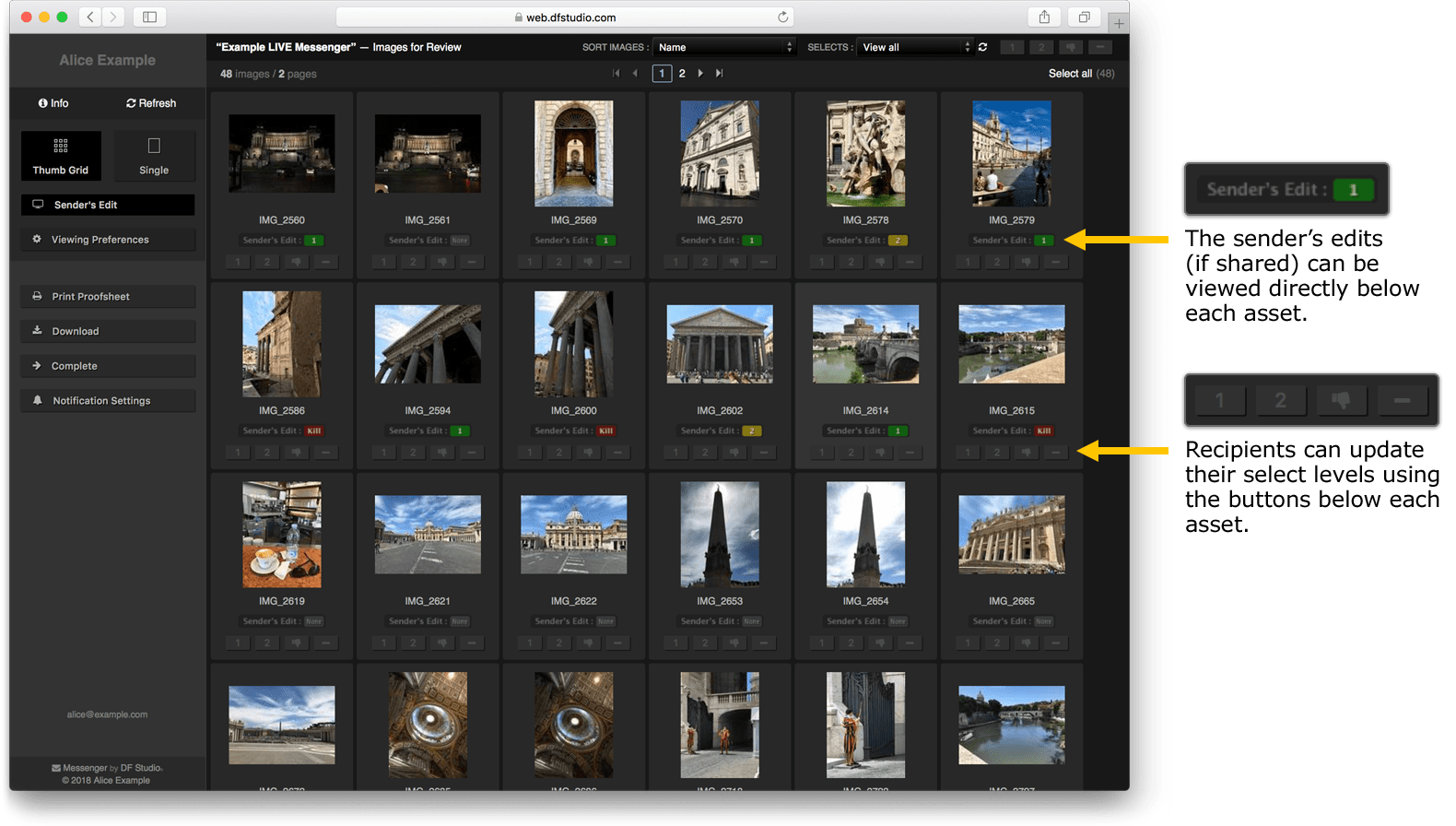 7. In a LIVE Messenger, the recipient can make edits immediately, and click the Refresh button to view the latest edits from the sender.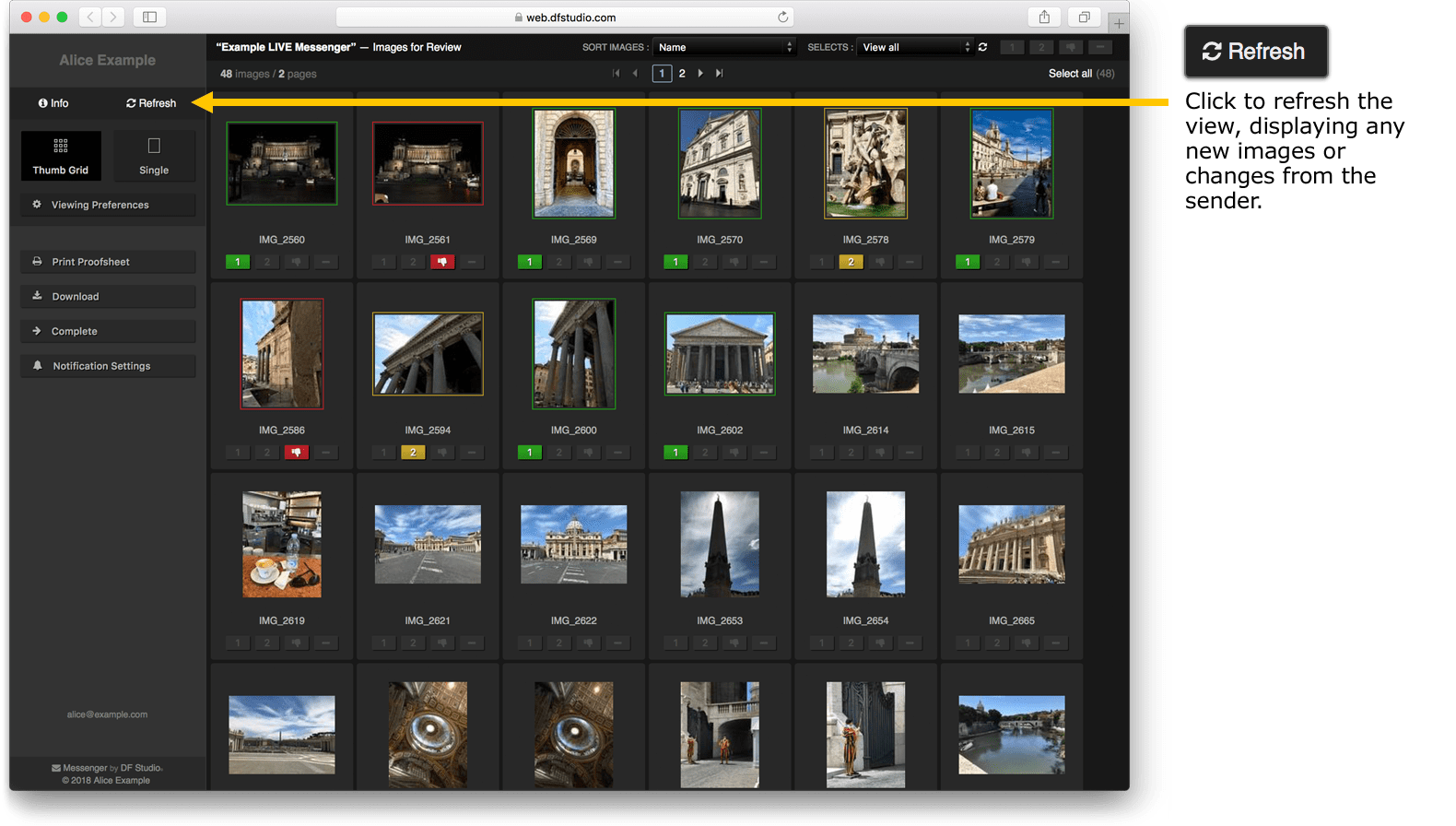 The recipient also has the option to be notified by email whenever new assets are added to the LIVE Messenger. The "Notification Settings" button reveals the configuration for this option. If enabled, notifications will be sent by email within 30 minutes after new asset are added to the LIVE Messenger.

8. The sender can load the latest edits from the recipient by clicking the Refresh button in the Project, and view the selects by choosing the recipient's Messenger in the Edits menu.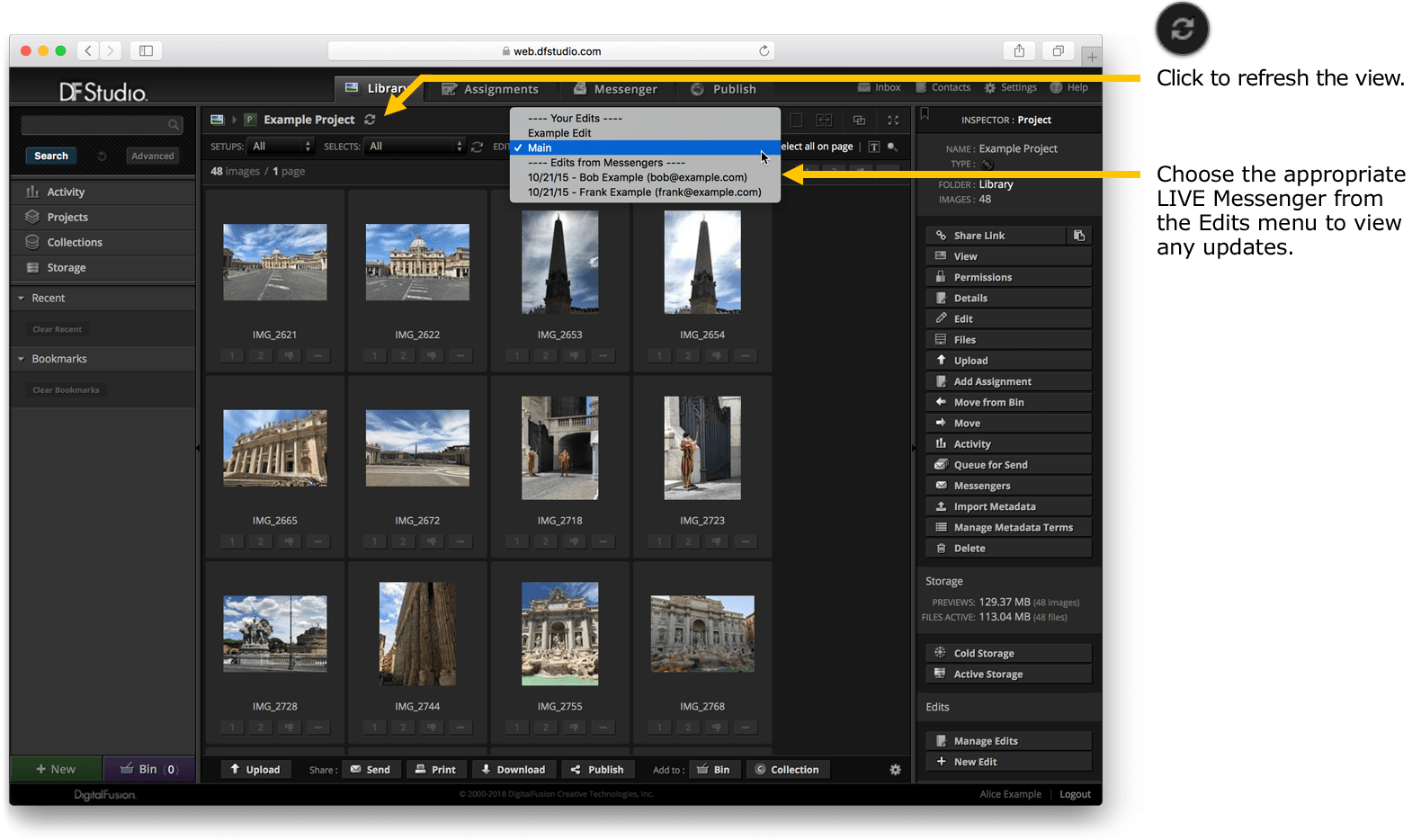 If the sender adds new images to the Project, these will also be visible in the recipient's LIVE Messenger when reloading the LIVE Messenger or clicking the Refresh button.