Like Projects, Collections are containers for images. Unlike Projects, Collections do not store any actual files, only references to assets that already exist in Projects.
There is no limit to the number of Collections that can be created, and Collections do not add to the overall storage of the Library, because they only reference assets that already exist in Projects, similar to a playlist of songs from a music library.
Collections have many uses. For example:
A photographer might make a new Collection of photos from the Library every time his/her portfolio website needs to be updated with the latest images.
Sales representatives at a stock company might make a new Collection of related images by theme every time they want to pitch a new story idea to a magazine.
A television

show's

photo producer might make a Collection of all the best single shots of the principal actor in the show for social media campaigns.
Collections behave similarly to Projects in many respects. Images can be edited and Messengers can be sent from them, and Collections can be stored in Folders within the Library.
Even though Collections do not hold copies of files, the storage status of the images in a Collection can be managed in the Files view. This means images from various Projects, gathered in a Collection, can be moved in and out of Cold Storage.
For more information about adding assets to Collections, see Organize Assets in Collections.
Visually, Projects can be quickly distinguished from Collections by the shape of their key frame. Projects are square, while Collections are round.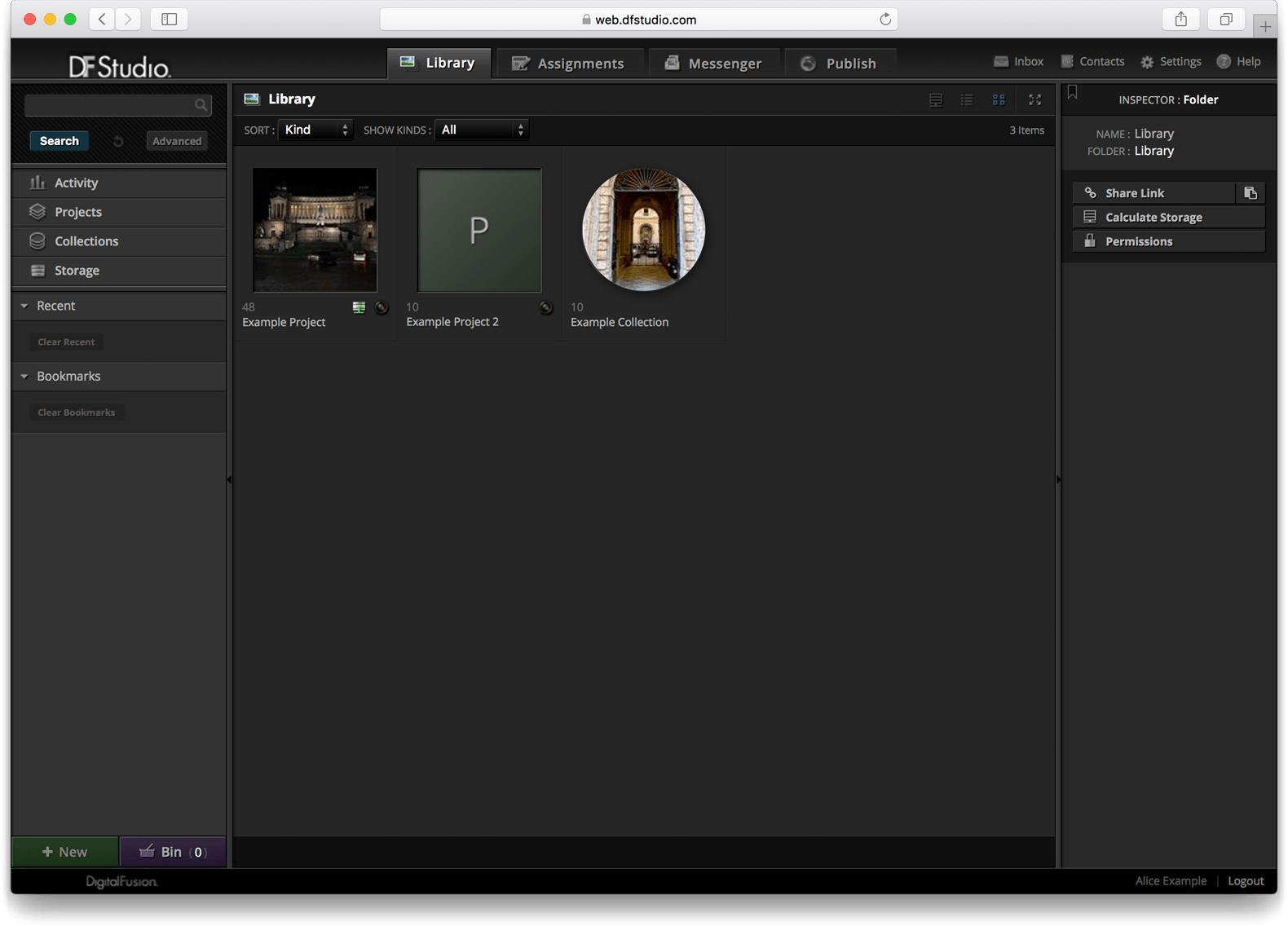 Shared Collections
Collections can be private or shared. Private Collections are viewable by the user who creates them (as well as administrative accounts, which can view all assets in a DF Studio account). Shared Collections can be made accessible to any user on the DF Studio account, making them a valuable collaborative tool for working with a set of images throughout a production workflow.
For more information, see Share a Collection.
Web Portfolios
Web Portfolios can be published from Collections, providing a publically viewable website to display the images.